Looking for a part?
Simply enter your part number into the search bar to the right,
or go to the TACKLE BOX to search by brand.
If you can't find it just give us a call:

1-866-431-0146

or

780-431-0146.
Our brand new website is still under construction with more parts being added weekly to our Tackle Box, the online shopping store. In the meantime we have thousands of parts in stock available now for purchase, you just need contact me directly for availability, price and payment options. Contact me by email or call me toll free in Canada at 1-866-431-0146 or outside Canada at 1-780-431-0146. We can call you back so you don't have to pay for the call if needed.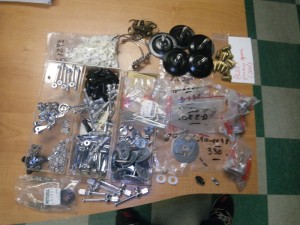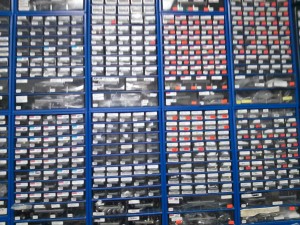 Looking for a part for your favorite reel? check out our schematics page to find a part number then email me at orders@reeldr.com

or call toll free in Canada 1-866-431-0146 or 780-431-0146.
Below is a list of parts in inventory available for purchase but not yet entered into the Tackle box for purchase. Please email or call us for any of these parts.
| | | |
| --- | --- | --- |
| | | |
| | | |
| | | |
| | | |
| 79-80000101 | SHAKESPEARE | CAST CONTROL CAP KIT |
| 79-280238-01 | SHAKESPEARE | GEAR |
| 79-58-017701 | SHAKESPEARE | PAWL CAPS |
| 74-43255102 | SHAKESPEARE | PAWL |
| 79-04013301 | SHAKESPEARE | BALL BEARING |
| 79-670726 | SHAKESPEARE | CLICKER SPRING |
| 79-000901 | SHAKESPEARE | CAST CONTROL CAP KIT |
| 79-45005101 | SHAKESPEARE | TRION CLICKER |
| 79-04013201 | SHAKESPEARE | BALL BEARING |
| SCI ANGLER | SCIENTIFIC ANGLER | SPRING (NO PART #) |
| RQ015-01 | ZEBCO | MAIN SHAFT |
| JI155-01 | ZEBCO | LINE COUNTER |
| QW123-01 | ZEBCO | CAST CONTROL CAP SCREW |
| JX033-02 | ZEBCO | CAST CONTROL CAP |
| UQ031 | ZEBCO | SPRING SHAFT |
| UQ019 | ZEBCO | KICK LEVER |
| UQ052 | ZEBCO | BAIL HOLDER PIN |
| GH016-01 | ZEBCO | LINE ROLLER BUSHING |
| JU027-01 | ZEBCO | GEAR SHAFT BUSHING |
| PH151-01 | ZEBCO | LINK SHAFT ARM |
| UQ022 | ZEBCO | SPRING |
| UQ315 SUB UQ015 | ZEBCO | CENTER SHAFT |
| FV016-01 | ZEBCO | CENTER SHAFT GUARD |
| FW055-01 | ZEBCO | STAR DRAG |
| UQ051 | ZEBCO | BAIL HOLDER PIN |
| JX117-01 | ZEBCO | TENSION KNOB BUSHING |
| JX082-01 | ZEBCO | WASHER CUSHION |
| FH200-01 | ZEBCO | LEVEL WIND GEAR |
| CX4452-1 | ZEBCO | A/R DOG |
| JX007-02 | ZEBCO | LINE GUIDE CARRIER SCREW |
| HV033-02 | ZEBCO | CAST CONTROL CAP |
| GU097-04 | ZEBCO | TRIGGER LINK ASSY |
| | | |
| NH397-01 | ZEBCO | TRIGGER LINK ASSY |
| RV034-03 | ZEBCO | HANDLE NUT CAP |
| JX105-01 | ZEBCO | TENSION KNOB SPRING |
| HV033-01 | ZEBCO | CAST CONTROL CAP |
| NH397-02 | ZEBCO | TRIGGER LINK ASSY |
| QW117-01 | ZEBCO | BUSHING-TENSION KNOB |
| CW033-01 | ZEBCO | TENSION KNOB |
| GH049-01 | ZEBCO | KICK LEVER SPRING |
| GU097-05 | ZEBCO | TRIGGER LINK ASSY |
| EW025-01 | ZEBCO | ?? |
| QW033-02 | ZEBCO | CAST CONTROL CAP |
| GU097-06 | ZEBCO | TRIGGER LINK ASSY |
| F0202-01 | ZEBCO | HANDLE NUT SPACER |
| CH028-01 | ZEBCO | BEARING |
| QT117-01 | ZEBCO | SPOOL BUSHING |
| TH112-01 | ZEBCO | TRIGGER LINK ASSY |
| JK046 | ZEBCO | BRAKE DISC |
| QT033-02 | ZEBCO | CAST CONTROL CAP GOLD |
| NL115 | ZEBCO | TRIGGER LINK |
| QT017-01A | ZEBCO | BALL BEARING |
| HU312-02 | ZEBCO | TRIGGER |
| QT032-02A | ZEBCO | WASHER-SPOOL TENSION |
| NL098-03 | ZEBCO | TRIGGER LINK |
| QT033-01F | ZEBCO | CAST CONTROL CAP |
| GU-097 | ZEBCO | TRIGGER LINK |
| QT081-01A | ZEBCO | CAST CONTROL COLLAR |
| QT032-03B | ZEBCO | CUSHION WASHER |
| XX033-01 | ZEBCO | SPOOL TENSION KNOB |
| RZ106 | ZEBCO | SPACER THRUST |
| RZ369 | ZEBCO | CRANK ROD NUT |
| SQ140-55 | ZEBCO | BODY REAR COVER |
| SQ025-01 | ZEBCO | OSC SLIDER |
| PT4371-01 | ZEBCO | SPOOL BEARING KIT |
| RT4371-01 | ZEBCO | SPOOL BEARING KIT |
| SQ360-01 | ZEBCO | CLUTCH ASSY |
| RQ100-01 | ZEBCO | SCREW |
| RQ025-01 | ZEBCO | OSC SLIDER |
| SQ053-51 | ZEBCO | OSC GEAR |
| | ZEBCO | BODY REAR COVER |
| CS318-01 | ZEBCO | HANDLE |
| QT318-51 | ZEBCO | HANDLE |
| ZO347-04 | ZEBCO | BAIL ASSY |
| GU347-01 | ZEBCO | BAIL WIRE |
| GU347-02 | ZEBCO | BAIL WIRE |
| RQ347-51 | ZEBCO | BAIL WIRE |
| FH347-02 | ZEBCO | BAIL WIRE |
| GU347-11 | ZEBCO | BAIL WIRE |
| PQ140-55 | ZEBCO | BODY REAR COVER |
| RQ139-01 | ZEBCO | CLUTCH SLEEVE |
| QT4381-01 | ZEBCO | DRAG WASHER KIT |
| ZW033-01 | ZEBCO | CAST CONTROL CAP |
| ZW033-02 | ZEBCO | CAST CONTROL CAP |
| RT4381-01 | ZEBCO | SPOOL BEARING KIT |
| TU052-01 | ZEBCO | A/R SLEEVE |
| QW032-04 | ZEBCO | TENSION WASHER |
| KW355-03 | ZEBCO | STARDRAG |
| TQ053-51 | ZEBCO | OSC GEAR |
| PQ025-01 | ZEBCO | OSC SLIDER |
| GU090-01 | ZEBCO | A/R LEVER |
| RT4381-01 | ZEBCO | SPOOL BEARING KIT |
| VW311-01 | ZEBCO | PINION GEAR |
| BV037-01 | ZEBCO | FLIPPING CAM |
| ZW063-01 | ZEBCO | CLUTCH BEARING |
| SQ307-01 | ZEBCO | BAIL ARM |
| RQ140-55 | ZEBCO | BODY REAR COVER |
| RQ053-51 | ZEBCO | OSC GEAR |
| SW017-01 | ZEBCO | BEARING |
| JW355 | ZEBCO | DRAG STAR |
| GH202-02 | ZEBCO | BEARING |
| QE315 | ZEBCO | CENTER SHAFT ASSY |
| SW311-01 | ZEBCO | PINION GEAR |
| CX025-01 | ZEBCO | PINION YOKE |
| SP007-02 | ZEBCO | BAIL ARM |
| PQ053-51 | ZEBCO | OSC GEAR |
| GU115-02 | ZEBCO | TRIGGER LINK |
| BE310-01 ESA | ZEBCO | SPINNERHEAD |
| PQ090-01 | ZEBCO | A/Rev Cam CI10pts |
| QW006-01 | ZEBCO | PAWL |
| GU091-01 | ZEBCO | BUSHING |
| VY056-01D | ZEBCO | HANDLE NUT LOCK |
| WW032 | ZEBCO | WASHER-TENSION |
| CX4258 | ZEBCO | O-RING |
| SW117 | ZEBCO | BEARING |
| QW035-03 | ZEBCO | WASHER-WORM SHAFT |
| UW104 | ZEBCO | SPRING |
| QW117 | ZEBCO | BUSHING |
| QW003-02 | ZEBCO | HEX NUT |
| BO132-01 | ZEBCO | HANDLE WASHER |
| BV627-01 | ZEBCO | FRONT COVER |
| QW035 | ZEBCO | WASHER |
| TW035 | ZEBCO | CRANK WASHER |
| QW053-05 | ZEBCO | SCREW RIGHT SIDE |
| QT011-01F | ZEBCO | PINION GEAR |
| QW053-2 | ZEBCO | SCREW RIGHT SIDE |
| QL031 | ZEBCO | SPRING SHAFT |
| QW007 | ZEBCO | LINE GUIDE CARRIER |
| MT016-02 | ZEBCO | BUSHING |
| RQ033-01 | ZEBCO | DRAG WASHER |
| RQ360-01 | ZEBCO | CLUTCH BEARING |
| GW034 | ZEBCO | HANDLE NUT CAP |
| GX4302 | ZEBCO | SPOOL TENSION |
| FT019 | ZEBCO | KICK LEVER |
| FV372-01 | ZEBCO | WORM SHAFT |
| CX067-01 | ZEBCO | WORM GEAR |
| CB022 | ZEBCO | BAIL SPRING |
| RR130-11A | ZEBCO | SCREW |
| QE012 | ZEBCO | DRIVE GEAR |
| EY4318-01 | ZEBCO | CRANK HANDLE NUT |
| FT030 & FT039 | ZEBCO | REAR DRAG WASHERS |
| GT093 | ZEBCO | FIGHTING DRAG |
| RR130-10A | ZEBCO | SCREW |
| RR130-05A | ZEBCO | SCREW |
| JX106-01 | ZEBCO | SPOOL BEARING |
| FT004 | ZEBCO | LINE ROLLER |
| FT022 | ZEBCO | BAIL SPRING |
| FT102 (?) | ZEBCO | BAIL WASHER |
| RQ023-52 | ZEBCO | SIDE COVER |
| 756-CP | ZEBCO | CLICKER PAWL |
| 783-01B | ZEBCO | POST |
| FT043 | ZEBCO | BAIL ARM |
| FT071 | ZEBCO | REAR DRAG WASHER |
| FX4151 | ZEBCO | WORM SHAFT |
| FT007 | ZEBCO | BAIL ARM |
| UK4363-02 | ZEBCO | ? |
| 894-01B | ZEBCO | POST |
| GU100-01 | ZEBCO | SMALL SCREW-SILVER |
| VY057-01B | ZEBCO | SMALL SCREW-SILVER |
| PG463-01 | ZEBCO | BEARING |
| TW058-03 | ZEBCO | BEARING |
| DH301-01 | ZEBCO | FRAME |
| ZY324-01 | ZEBCO | FRONT COVER ASSY (1 MORE IN D0442) |
| DV001-01 | ZEBCO | FRAME |
| RQ307-04 | ZEBCO | BAIL ARM |
| BS318-01 | ZEBCO | HANDLE |
| RT318-02 | ZEBCO | HANDLE |
| RQ318-01 | ZEBCO | HANDLE |
| GU318-44 | ZEBCO | HANDLE |
| JU060-01 | ZEBCO | A/R RATCHET |
| GU060-01 | ZEBCO | A/R RATCHET |
| SH060-01 | ZEBCO | A/R RATCHET |
| PQ307-01 | ZEBCO | ARM LEVER |
| HU060-01 | ZEBCO | A/R RATCHET |
| RH060-01 | ZEBCO | RATCHET |
| TH066-01 | ZEBCO | DRAG NUT |
| HV4072-02 | ZEBCO | WORM SHAFT KIT |
| KV372-01 | ZEBCO | WORM SHAFT ASSY |
| CX006-01 | ZEBCO | PAWL |
| BG354-02 | ZEBCO | Handle Screw Assy |
| GU105-07 | ZEBCO | HANDLE NUT WASHER |
| WW033-01 | ZEBCO | TENSION KNOB |
| KO049-05 | ZEBCO | SPRING |
| EMPTY | ZEBCO | |
| UQ201 | ZEBCO | WORM GEAR |
| UQ020 | ZEBCO | UNK |
| RU141-01 | ZEBCO | PINION BUSHING |
| RQ307-01 | ZEBCO | BAIL ARM |
| QT015-01 | ZEBCO | MAIN SHAFT |
| AT073-76 | ZEBCO | HANDLE NUT |
| UQ031 | ZEBCO | SPRING SHAFT |
| NH151-01 | ZEBCO | LINE SHAFT ARM |
| EMPTY ZEBCO | ZEBCO | |
| NH151-01 | ZEBCO | LINK SHAFT ARM |
| UQ096 | ZEBCO | TRIP LEVER |
| XQ202-1 | ZEBCO | BUSHING W/S LEFT |
| TH060-01 | ZEBCO | A/R RATCHET |
| TH119-01 | ZEBCO | SLIDE SPRING 'A' |
| GU312-02 | ZEBCO | TRIGGER LINK |
| EMPTY ZEBCO | ZEBCO | |
| GU318-17 | ZEBCO | HANDLE |
| EMPTY ZEBCO | ZEBCO | |
| JK318-2 | ZEBCO | HANDLE |
| ME318-03 | ZEBCO | HANDLE |
| EMPTY ZEBCO | ZEBCO | |
| EMPTY ZEBCO | ZEBCO | |
| EMPTY ZEBCO | ZEBCO | |
| KZ318-11 | ZEBCO | HANDLE |
| BJ318-01 | ZEBCO | HANDLE |
| OK318-01 | ZEBCO | HANDLE |
| EMPTY ZEBCO | ZEBCO | |
| XQ051 | ZEBCO | ARM LEVER PIN |
| XZ318-29 | ZEBCO | HANDLE |
| TH007-03 | ZEBCO | BAIL ARM |
| NH007-01 | ZEBCO | BAIL ARM |
| SW087-01 | ZEBCO | FLIPPIN SWITCH |
| GU007-01 | ZEBCO | BAIL ARM |
| PHII4-01 | ZEBCO | KICK BOSS |
| QW101-01 | ZEBCO | O-RING |
| RH119-01 | ZEBCO | A/R SPRING |
| JV128 | ZEBCO | DRAG SPRING |
| KY038-01D | ZEBCO | CLIP |
| KK049-01 | ZEBCO | BAIL SPRING |
| GU061-01 | ZEBCO | A/R DOG SPRING |
| GU089-01 | ZEBCO | A/R SWITCH CLIP |
| JY310-02 | ZEBCO | SPINNERHEAD |
| QT4011-01 | ZEBCO | GEAR ASSY KIT |
| UQ347-02 | ZEBCO | BAIL WIRE |
| ZJ318-01 | ZEBCO | HANDLE |
| RH318-12 | ZEBCO | HANDLE |
| PQ347-51 | ZEBCO | BAIL WIRE |
| XW104-01 | ZEBCO | RELEASE SLIDER SPRING |
| KV059-01 | ZEBCO | DRAG DISC "B" |
| QH060-01 | ZEBCO | RATCHET GEAR |
| RQ063-01 | ZEBCO | A/R CLAW |
| BAA012-02 | ZEBCO | DRIVE GEAR |
| PH332-03 | ZEBCO | DRAG KNOB |
| TH105-01 | ZEBCO | HANDLE CAP WASHER |
| DW4033-07 | ZEBCO | SPOOL TENSION KNOB KIT |
| PG332-01 | ZEBCO | Drag Knob Assy TE20/30 |
| GU115-04 | ZEBCO | TRIGGER |
| GU115-03 | ZEBCO | TRIGGER |
| GU115-01 | ZEBCO | TRIGGER |
| TU201-01 | ZEBCO | WORM GEAR |
| NH116-01 | ZEBCO | TRIGGER |
| NH116-01 | ZEBCO | TRIGGER |
| GU097-01 | ZEBCO | TRIGGER LINK |
| GU097-02 | ZEBCO | TRIGGER LINK |
| GU097-03 | ZEBCO | TRIGGER LINK |
| NH116-01 | ZEBCO | TRIGGER (EXTRA STOCK) |
| TH398-01 | ZEBCO | TRIGGER LINK |
| UQ397 | ZEBCO | TRIGGER LINK |
| ZQ007-01 | ZEBCO | BAIL ARM |
| XQ007-1 | ZEBCO | BAIL ARM |
| UL087 | ZEBCO | SIDE PLATE |
| UQ007 | ZEBCO | BAIL ARM |
| GU007-02 | ZEBCO | BAIL ARM |
| GU347-10 | ZEBCO | BAIL WIRE |
| BH004-14 | ZEBCO | LINE ROLLER |
| UL004-01 | ZEBCO | LINE ROLLER |
| MT004-01 | ZEBCO | LINE ROLLER |
| JU101-01 | ZEBCO | DRAG KNOB SCREW |
| JU078-01 | ZEBCO | MAIN SHAFT CLIP |
| HV072-01 | ZEBCO | WORM GEAR |
| CX4100 | ZEBCO | LEVEL WIND HOOD |
| CX4151 | ZEBCO | WORM GEAR |
| CX4201 | ZEBCO | LINE GUIDE |
| CX4661 | ZEBCO | DRAG WASHER |
| CX4660 | ZEBCO | HANDLE WASHER |
| CX4659 | ZEBCO | DRAG WASHER |
| QL020-01 | ZEBCO | BAIL SPRING HOLDER |
| QL031-01 | ZEBCO | BAIL SPRING SHAFT |
| JH011-01 | ZEBCO | PINION GEAR |
| FH202-01 | ZEBCO | WORM GEAR |
| TU207-01 | ZEBCO | PAWL |
| TU202-01 | ZEBCO | WORM SHAFT BUSHING |
| UL031-01 | ZEBCO | BAIL SPRING SHAFT |
| BH022-51 | ZEBCO | BAIL SPRING |
| NL096-01 | ZEBCO | TRIGGER SPRING |
| HU019-01 | ZEBCO | TRIP LEVER |
| Empty | ZEBCO | BAIL SPRING |
| BH031-71 | ZEBCO | BAIL SPRING SHAFT |
| BH022-71 | ZEBCO | ARM LEVER SPRING |
| XQ200-1 | ZEBCO | PINION GEAR |
| BJ026-01 | ZEBCO | CRANK SHAFT BEARING |
| WX4665 | ZEBCO | E-RING |
| CJ026-01 | ZEBCO | CRANK SHAFT BEARING |
| CJ026-01 | ZEBCO | CRANK SHAFT BEARING |
| GZ034-01 | ZEBCO | E-CLIP |
| UQ117-01 | ZEBCO | BAIL TRIP LEVER SPRING |
| GH011-01 | ZEBCO | PINION GEAR |
| ZH012-11 | ZEBCO | DRIVE GEAR |
| ZQ007-04 | ZEBCO | BAIL ARM |
| ZQ007-03 | ZEBCO | BAIL ARM |
| ZQ007-02 | ZEBCO | BAIL ARM |
| RV034-02 | ZEBCO | HANDLE NUT COVER BAG ASSY |
| JH001-01 | ZEBCO | FRAME |
| NH347-01 | ZEBCO | BAIL WIRE |
| FH347-01 | ZEBCO | BAIL WIRE |
| KZ323-04A | ZEBCO | REAR COVER |
| Empty | ZEBCO | BAIL SPRING |
| GH011-02 | ZEBCO | PINION GEAR |
| GU012-01 | ZEBCO | DRIVE GEAR |
| NH011-01 | ZEBCO | PINION GEAR |
| FH011-01 | ZEBCO | PINION GEAR |
| GU011-01 | ZEBCO | PINION GEAR |
| LC032-01A | ZEBCO | DRAG KNOB |
| ZH011-11 | ZEBCO | PINION GEAR |
| XQ201-01 | ZEBCO | WORM GEAR |
| TU015-02 | ZEBCO | MAIN SHAFT |
| VE012-03A | ZEBCO | DRIVE GEAR |
| NH012-01 | ZEBCO | DRIVE GEAR |
| HU078-01 | ZEBCO | MAIN SHAFT CLIP |
| HU101-01 | ZEBCO | DRAG KNOB SCREW BLK |
| HU101-02 | ZEBCO | DRAG KNOB SCREW GREY |
| DJ069-CP | ZEBCO | CRANK ROD NUT |
| DJ020 | ZEBCO | CENTER SHAFT SPRING |
| DJ032 | ZEBCO | CLUTCH WHEEL |
| HV053-01 | ZEBCO | OSCILLATIING GEAR |
| GH090-03 | ZEBCO | A/R LEVER |
| GU053-01 | ZEBCO | OSC GEAR |
| TU015-01 | ZEBCO | MAIN SHAFT |
| DJ027 | ZEBCO | CLUTCH RING |
| DJ002 | ZEBCO | A/R ACTUATOR |
| DB006 | ZEBCO | ROTOR NUT |
| GH200-01 | ZEBCO | PINION GEAR |
| QV033-01 | ZEBCO | CAST CONTROL CAP |
| VE011-01B | ZEBCO | PINION GEAR |
| BH053-31 | ZEBCO | OSCILLATING GEAR |
| JU315-02 | ZEBCO | MAIN SHAFT |
| NH015-01 | ZEBCO | MAIN SHAFT |
| FH015-01 | ZEBCO | MAIN SHAFT |
| FH015-02 | ZEBCO | MAIN SHAFT |
| GU015-01 | ZEBCO | MAIN SHAFT |
| RQ073-01 | ZEBCO | HANDLE NUT Silver |
| CH373-01 | ZEBCO | HANDLE NUT Chrome |
| NH373-01 | ZEBCO | HANDLE NUT |
| TH073-01 | ZEBCO | HANDLE NUT |
| ZJ069-01A | ZEBCO | HANDLE NUT |
| GH073-04 | ZEBCO | HANDLE NUT |
| JK073-04 | ZEBCO | HANDLE NUT |
| JK073 | ZEBCO | HANDLE NUT |
| UQ073-01 | ZEBCO | HANDLE SCREW CAP |
| GH073-02 | ZEBCO | HANDLE NUT-GREY, BLK, SILVER |
| GU073-01 | ZEBCO | HANDLE NUT |
| GU073-05 | ZEBCO | HANDLE NUT |
| GU073-03 | ZEBCO | HANDLE NUT |
| QH073-02 | ZEBCO | HANDLE CAP |
| GT073 | ZEBCO | HANDLE CAP |
| AZ003-01 | ZEBCO | HANDLE NUT |
| QZ003-02 | ZEBCO | HANDLE NUT |
| XZ003-01 | ZEBCO | HANDLE NUT |
| VE068-02A | ZEBCO | HANDLE NUT |
| VE068-01A | ZEBCO | HANDLE NUT |
| QL073 | ZEBCO | HANDLE NUT |
| AT4073-03 | ZEBCO | HANDLE NUT |
| VY003-01 | ZEBCO | HANDLE NUT |
| JX034-02 | ZEBCO | HANDLE NUT CAP |
| JL068 | ZEBCO | HANDLE NUT |
| PB003 ? | ZEBCO | HANDLE NUT |
| PZ003 ? | ZEBCO | HANDLE NUT |
| TH073-03 | ZEBCO | HANDLE NUT GRAY |
| RT318-01 | ZEBCO | HANDLE |
| TK318 | ZEBCO | HANDLE |
| NH318-01 | ZEBCO | HANDLE (SLIGHTLY SMALLER THAN DRAWER 1087) |
| GX4072-01 | ZEBCO | WORM AND PAWL KIT |
| RQ012-01 | ZEBCO | MAIN GEAR CT20 |
| GX4072-02 | ZEBCO | WORM AND PAWL KIT |
| BNT1240 | SHIMANO | LINE GUIDE |
| BV104-01 | ZEBCO | FLIPPING SWITCH SPRING |
| SK332-02 | ZEBCO | DRAG KNOB |
| NH332-03 | ZEBCO | DRAG KNOB |
| ZY332-01 | ZEBCO | DRAG KNOB |
| TK332-02 | ZEBCO | DRAG KNOB |
| XH332-01 | ZEBCO | DRAG KNOB |
| QH332-01 | ZEBCO | DRAG KNOB |
| PH332-02 | ZEBCO | DRAG KNOB |
| BH332-11 | ZEBCO | DRAG KNOB |
| GH332-02 | ZEBCO | DRAG KNOB |
| ZU332-01 | ZEBCO | DRAG KNOB ASSY. |
| JK128 | ZEBCO | DRAG SPRING |
| ZU332-07 | ZEBCO | DRAG KNOB ASSY. |
| KY038-01D | ZEBCO | CLIP |
| GU332-10 | ZEBCO | DRAG KNOB ASSY. |
| GU332-04 | ZEBCO | DRAG KNOB |
| SH119-01 | ZEBCO | A/R SPRING |
| ZU332-02 | ZEBCO | DRAG KNOB ASSY. (big part) |
| DQ332 | ZEBCO | DRAG KNOB |
| ZW097-01 | ZEBCO | KICK LEVEL SPRING |
| NH332-02 | ZEBCO | DRAG KNOB |
| HU032-01 | ZEBCO | DRAG KNOB |
| HU032-03 | ZEBCO | DRAG KNOB |
| JU032-01 | ZEBCO | DRAG KNOB |
| TH032-010 | ZEBCO | DRAG KNOB |
| PQ332-05 | ZEBCO | DRAG KNOB |
| RH332-03 | ZEBCO | DRAG KNOB |
| QT332-01 | ZEBCO | DRAG KNOB |
| RK332-02 | ZEBCO | DRAG KNOB |
| PT332-10 | ZEBCO | DRAG KNOB ASSY |
| AZ301-01C | ZEBCO | FRAME |
| VAA318-01 | ZEBCO | Handle Assy SL30pti |
| QE001 | ZEBCO | FRAME |
| UQ352-2 | ZEBCO | TRIP LEVER ASSEMBLY |
| VE318-01 | ZEBCO | HANDLE GREY |
| VE318-02 | ZEBCO | HANDLE BLACK |
| CH332-01 | ZEBCO | DRAG KNOB |
| UQ322 | ZEBCO | DRAG KNOB |
| FH332-02 | ZEBCO | DRAG KNOB |
| JU032-03 | ZEBCO | DRAG KNOB |
| JU032-03 | ZEBCO | DRAG KNOB |
| FH332-03 | ZEBCO | DRAG KNOB |
| GH332-01 | ZEBCO | DRAG KNOB |
| GH332-03 | ZEBCO | DRAG KNOB |
| GU332-01 | ZEBCO | DRAG KNOB |
| NH332-01 | ZEBCO | DRAG KNOB |
| QY038 | ZEBCO | THUMB STOP SPRING |
| AB4 | ZEBCO | LINE ROLLER FITS 620, 640, 3020, 3040 |
| AB6 | ZEBCO | HEX NUT |
| FE032 | ZEBCO | STAR DRAG |
| KQ049-01 | ZEBCO | KICK LEVER SPRING |
| AB014 | ZEBCO | BAIL NUT |
| AB019 | ZEBCO | BAIL TRIP LEVER |
| AB012 | ZEBCO | CRANK GEAR – BIG PART FITS 620, 3020 |
| BJ069-01D | ZEBCO | CRANK ROD NUT |
| UNK PART # | ZEBCO | BAIL ARM |
| AB011 | ZEBCO | PINION FITS 620, 3020 |
| AB015 | ZEBCO | CENTER SHAFT FITS 620, 3020 |
| AB022 | ZEBCO | TRIP LEVER SPRING FITS 620, 640, 3020, 3040 |
| AB024 | ZEBCO | BAIL LEVER PLATE FITS 620, 3020 |
| AB029 | ZEBCO | OSCILLATOR PIN FITS 620, 640, 3020, 3040 |
| AB025 | ZEBCO | OSCILLATOR SLIDER FITS 620, 3020 |
| AB026 | ZEBCO | GEAR WASHER FITS 620, 640, 3020, 3040 |
| AB023 | ZEBCO | WILL FIT IN ENV- SIDE COVER FITS 620, 3020 |
| BA048 | ZEBCO | STAR WASHER |
| BA007 | ZEBCO | BAIL ARM |
| BA014 | ZEBCO | HANDLE NUT |
| BA006 | ZEBCO | SPINNER HEAD NUT |
| BA015 | ZEBCO | SHAFT |
| BA023 | ZEBCO | SMALL PART – SIDE COVERS |
| ZJ009-01B | ZEBCO | THUMB STOP |
| RK318-51 | ZEBCO | HANDLE |
| ZJ324 | ZEBCO | FRONT COVER |
| ZJ023-02A | ZEBCO | BACK COVER RING CHROME |
| UP318-02 | ZEBCO/QUANTUM | SURGE SERIES HANDLE |
| | ZEBCO/QUANTUM | |
| CX4252 | ZEBCO | SPOOL SHAFT BEARING |
| CX4253 | ZEBCO | RETAINER CLIP |
| CX4254 | ZEBCO | DRIVE SHAFT BUSHING |
| CX4257 | ZEBCO | MAGNET RET |
| CX4301 | ZEBCO | MAGNET RETAINER SPRING |
| CX4261 | ZEBCO | MAGNET RETAINER SUPPORT |
| CX4401 | ZEBCO | PINION YOKE |
| CX4451 | ZEBCO | A/R RATCHET |
| CX4502 | ZEBCO | SPOOL RELEASE SPRING |
| CX4503 | ZEBCO | SET PLATE ACTUATOR SPRING |
| CX4504 | ZEBCO | SET PLATE ACTUATOR |
| CX4602 | ZEBCO | MAGNET RETAINER SCREW |
| CX4651 | ZEBCO | DRIVE GEAR |
| CX4652 | ZEBCO | DRIVE SHAFT |
| CX4656 | ZEBCO | C-CLIP |
| CX4202 | ZEBCO | LINE GUIDE PAWL |
| CX4204 | ZEBCO | PAWL CAP |
| CX4250 | ZEBCO | O-RING |
| CX4302 | ZEBCO | SPOOL TENSION SHIM |
| CX4303 | ZEBCO | MAGNET CONTROL DIAL |
| CX4352 | ZEBCO | RIGHT SIDE PLATE SCREW |
| CX4658 | ZEBCO | BASE DRAG WASHER |
| CX4702 | ZEBCO | HANDLE NUT |
| CX4703 | ZEBCO | HANDLE NUT LOCK |
| CX4704 | ZEBCO | HANDLE NUT LOCK SCREW |
| CX4152 | ZEBCO | C-CLIP |
| CX4153 | ZEBCO | GEAR RETAINER |
| CX4353 | ZEBCO | SET PLATE SPRING |
| CX4662 | ZEBCO | DRIVE SHAFT WASHER |
| EX047-01 | ZEBCO | LINE GUIDE CARRIER |
| EX033-01 | ZEBCO | SPOOL TENSION KNOB |
| EX082-01 | ZEBCO | SPOOL CUSHION WASHER |
| HU012-01 | ZEBCO | MAIN GEAR |
| EX038-01 | ZEBCO | SPOOL TENSION KNOB WASHER |
| EX117-01 | ZEBCO | SPOOL TENSION KNOB BUSHING |
| TH101-01 | ZEBCO | DRAG KNOB SCREW |
| NX082-01 | ZEBCO | CUSHION WASHER |
| SW117-01 | ZEBCO | TENSION KNOB BEARING |
| KJ068-01A | ZEBCO | CRANK ROD NUT |
| NX032-02 | ZEBCO | WASHER –TENSION KNOB |
| QW081-01 | ZEBCO | CAST CONTROL COLLAR |
| JX006-02 | ZEBCO | LINE GUIDE PAWL |
| ZW130-02 | ZEBCO | DIAL |
| UL085 | ZEBCO | SCREW |
| UQ207 | ZEBCO | PAWL |
| ZW130-01 | ZEBCO | DIAL |
| GH019-01 | ZEBCO | KICK LEVER |
| ZW006-01 | ZEBCO | PAWL |
| QW032-02 | ZEBCO | WASHER-SPOOL TENSION |
| GU105-31 | ZEBCO | WASHER |
| UQ-209 | ZEBCO | WASHER |
| RU105-01 | ZEBCO | HANDLE CAP WASHER |
| GH004-01 | ZEBCO | LINE ROLLER |
| GH089-01 | ZEBCO | A/R LEVER SPRING |
| WW006-01 | ZEBCO | LINE GUIDE PAWL |
| UQ208-03 | ZEBCO | PAWL COLLAR (4) + 2 PAWLS |
| LX4702 | ZEBCO | HANDLE NUT |
| QW033-01 | ZEBCO | CAST CONTROL CAP |
| JX006-03 | ZEBCO | LINE GUIDE PAWL |
| QW082-01 | ZEBCO | SPOOL CUSHION WASHER |
| AV033-01 | ZEBCO | CAST CONTROL CAP |
| UQ207-02 | ZEBCO | PAWL |
| JX034-01 | ZEBCO | HANDLE NUT CAP |
| UQ200 | ZEBCO | PINION GEAR |
| QW032-02 | ZEBCO | SPOOL TENSION SHIM |
| QW032-01 | ZEBCO | SPOOL TENSION SHIM |
| UJ009-02 | ZEBCO | THUMB BUTTON |
| QW034-01 | ZEBCO | HANDLE NUT CAP |
| JU019 | ZEBCO | TRIP LEVER |
| KQ049-05 | ZEBCO | ARM LEVER SPRING |
| NH114-01 | ZEBCO | KICK BOSS |
| QT4371-01 | ZEBCO | BEARING KIT |
| SQ307-04 | ZEBCO | BAIL ARM |
| BS015-01 | ZEBCO | MAIN SHAFT |
| WW032-01 | ZEBCO | TENSION KNOB WASHER |
| GU086-01 | ZEBCO | SILENT CAM |
| NH154-02 | ZEBCO | LINK CAM |
| NH357-01 | ZEBCO | LINK ARM LEVER ASSY |
| NH154-01 | ZEBCO | LINK CAM |
| XZ318-09 | ZEBCO | HANDLE |
| CJ108-01A | ZEBCO | DRAG WASHER |
| JY108-01A | ZEBCO | DRAG WASHER |
| BJ040-01B | ZEBCO | DRAG WASHER |
| JY040-01C | ZEBCO | DRAG WASHER |
| QY021-01 | ZEBCO | SPOOL |
| UJ079-02 | ZEBCO | HANDLE SCREW COVER |
| DW4011 | ZEBCO/QUANTUM | GEAR KIT |
| EMPTY ZEB | ZEBCO | |
| ME014-03 | ZEBCO | A/R SWITCH |
| KZ014-01 | ZEBCO | A/R SWITCH |
| MZ088-02A | ZEBCO | O-RING |
| EMPTY | ZEBCO | |
| UAA318-01 | ZEBCO | Handle Assy E30ptic |
| CJ001 | ZEBCO | FRAME |
| VN318-01 | ZEBCO | HANDLE |
| QE324 | ZEBCO | FRONT COVER |
| QE4318-01 | ZEBCO | HANDLE |
| RQ301-52 | ZEBCO | FRAME |
| CX001-02 | ZEBCO | FRAME |
| JY009-02 | ZEBCO | THUMB BUTTON |
| JE309-01 | ZEBCO | THUMB BUTTON O/S |
| XZ009-02 | ZEBCO | THUMB BUTTON (big part) |
| ME309-02 | ZEBCO | THUMB BUTTON |
| JE309-01 | ZEBCO | THUMB BUTTON O/S (big part) |
| 11165 | ABU | BAIL SPRING |
| 11166 | ABU | BAIL SPRING |
| KZ309-02 | ZEBCO | THUMB BUTTON (GREEN) |
| KZ309-02 | ZEBCO | THUMB BUTTON (GREEN) |
| BE009-01 | ZEBCO | THUMB BUTTON (big part) |
| KE315-02 | ZEBCO | PINION GEAR |
| SE017-01B | ZEBCO | CENTER BUSHING |
| FE315-01 | ZEBCO | PINION GEAR |
| KJ315-02 | ZEBCO | PINION GEAR |
| EZ315-01 | ZEBCO | PINION GEAR |
| KJ315-04 | ZEBCO | PINION GEAR |
| KZ315-01 | ZEBCO | PINION GEAR |
| PZ308-01 | ZEBCO | DRIVE GEAR |
| EZ308-01- | ZEBCO | DRIVE GEAR |
| CJ012-03 | ZEBCO | DRIVE GEAR |
| KF308-01 | ZEBCO | DRIVE GEAR |
| XZ308-01 | ZEBCO | DRIVE GEAR |
| KY308-04 | ZEBCO | DRIVE GEAR |
| JY060-01 | ZEBCO | A/R DOG |
| KZ060-01 | ZEBCO | A/R DOG |
| XZ063-01 | ZEBCO | A/R DOG |
| JY121-01 | ZEBCO | RETAINER CLIP |
| KQ034-01 | ZEBCO | E-RING |
| NH318-01 | ZEBCO | HANDLE O/S |
| TH318-01 | ZEBCO | HANDLE |
| TG318-01 | ZEBCO | QV10-20 Handle |
| UQ318 | ZEBCO | HANDLE |
| CS318-02 | ZEBCO | HANDLE |
| UG318-01 | ZEBCO | QV30-40 |
| LV055-01 | ZEBCO | STAR DRAG |
| LV318-01 | ZEBCO | HANDLE |
| TG249-01 | ZEBCO | Handle Screw |
| TH105-01 | ZEBCO | WASHER |
| BAA007-01 | QUANTUM | BAIL ARM |
| PX4072-02 | QUANTUM | WORM N PAWL |
| TK373-02 | QUANTUM | HANDLE SCREW |
| | ZEBCO | |
| DW003-05 | ZEBCO | HANDLE NUT |
| QW003-02 | ZEBCO | HANDLE NUT |
| DW034-02 | ZEBCO | HANDLE NUT CAP |
| QW003-02 | ZEBCO | HANDLE NUT |
| uaa054-01 | ZEBCO | Dust cap |
| AAA103-01 | ZEBCO | Spool click |
| UAA025-01 | ZEBCO | O/S SLIDER |
| DW050-02 | ZEBCO | HANDLE NUT CAP SCREW |
| EW025-01 | ZEBCO | PINION YOKE |
| NX054-01 | ZEBCO | HANDLE WASHER |
| DW4033-06 | ZEBCO | Spool Tens Knob Assy |
| DW4011-01 | ZEBCO | GEAR KIT |
| VX4011-02 | ZEBCO | GEAR KIT |
| baa158-01 | ZEBCO | O/S Gear Bearing |
| TW058-03 | ZEBCO | BEARING |
| HV4072-01 | ZEBCO | WORM SHAFT KIT |
| HV4072-02 | ZEBCO | WORM SHAFT KIT |
| BAA022-01 | ZEBCO | Spool TenWasher Kit CD860/870CX |
| BAA031-01 | ZEBCO | ACTUATOR |
| AAA019-01 | ZEBCO | KICK LEVER |
| QW4032-01 | ZEBCO | Spool TenWasher Kit CD860/870CX |
| DB022 | ZEBCO | BAIL SPRING |
| PG307-11 | ZEBCO | BAIL ARM |
| BAA007-06 | ZEBCO | BAIL ARM |
| LW099-01 | ZEBCO | FRONT COVER |
| PT318-01 | ZEBCO | HANDLE |
| KV323-03 | ZEBCO | LEFT SIDE COVER |
| JH318-10 | ZEBCO | HANDLE |
| CH301-01 | ZEBCO | FRAME |
| PH318-01 | ZEBCO | HANDLE ASSY. |
| LH001-05 | ZEBCO | FRAME |
| RP318-01 | Quantum | Handle |
| PX4072 | Quantum | Worm and Pawl |
| PG059-01 | Quantum | A/R lever |
| MG307-02 | Quantum | Arm Lever |
| W53-1201 | DAIWA | Worm Shaft Gear |
| G83-9802 | DAIWA | Handle Screw |
| VAA332-02 | ZEBCO | DRAG KNOB |
| UL086 | ZEBCO | SILENT CAM |
| GU086 | ZEBCO | SILENT CAM |
| JU086-01 | ZEBCO | SILENT CAM |
| GU063-01 | ZEBCO | A/R DOG |
| GU074-01 | ZEBCO | A/R DOG CAM |
| BL157-01 | ZEBCO | BEARING |
| UK028-01 | ZEBCO | BEARING |
| GM013-01 | ZEBCO | BUSHING |
| BA012 | ZEBCO | DRIVE GEAR |
| BJ054 | ZEBCO | CLUTCH SCREW |
| BJ032-01B | ZEBCO | CLUTCH WHEEL |
| TH112-02 | ZEBCO | TRIGGER |
| TH398-02 | ZEBCO | PICK UP PIN |
| RQ307-03 | ZEBCO | BAIL ARM |
| CH307-01 | ZEBCO | BAIL ARM |
| CH307-02 | ZEBCO | BAIL ARM |
| DH307-01 | ZEBCO | BAIL ARM |
| DH307-02 | ZEBCO | BAIL ARM |
| UNK PT# | ZEBCO | BAIL ARM |
| NH007-02 | ZEBCO | BAIL ARM |
| VE318-04 | ZEBCO | HANDLE |
| GU318-11 | ZEBCO | HANDLE |
| PG318-01 | Quantum | Handle |
| CH318-01 | ZEBCO | HANDLE |
| QG318-02 | Quantum | Handle |
| GU318-19 | ZEBCO | HANDLE |
| QH318-01 | ZEBCO | HANDLE |
| 24450 | PENN | |
| RH318-02 | ZEBCO | HANDLE |
| VAA318-02 | ZEBCO | HANDLE |
| BA022 | ZEBCO | BAIL LEVER SPRING |
| BA026 | ZEBCO | WASHER |
| BA036 | ZEBCO | DRAG SPRING |
| QW111-01 | ZEBCO | TRIP RATCHET WASHER |
| BH007-61 | ZEBCO | BAIL ARM |
| NB073 | ZEBCO | HANDLE CAP |
| BA060 | ZEBCO | A/R CAM |
| BA029 | ZEBCO | SCREW |
| BA056 | ZEBCO | WASHER-RED |
| BA055 | ZEBCO | LOCK WASHER |
| BA061 | ZEBCO | A/R SPRING |
| BA063 | ZEBCO | A/R PAWL |
| BA074 | ZEBCO | SPRING WASHER |
| DA056 | ZEBCO | CLICK GEAR |
| CA066 | ZEBCO | CLICK GEAR |
| BA059 | ZEBCO | A/R LEVER |
| BA047 | ZEBCO | BAIL WIRE |
| BA051 | ZEBCO | BAIL HINGE SCREW |
| RB066 | ZEBCO | CLICK GEAR |
| JA056 | ZEBCO | CLICK GEAR |
| YX355-01 | ZEBCO | DRAG WHEEL |
| TP4073-51 | ZEBCO | HANDLE NUT |
| ZCRD-10 | ZEB-CARDINAL | Cardinal Rotor Decals (10) |
| LV4034-01 | ZEBCO | HANDLE NUT RETAINER KIT |
| JX4006-01 | ZEBCO | LINE GUIDE PAWL KIT |
| KV127-01 | ZEBCO | OSC IDLE GEAR |
| JX098-01 | ZEBCO | A/R POST |
| KV363-01 | ZEBCO | A/R PAWL ASSY |
| KV112-01 | ZEBCO | OSC DRIVE GEAR |
| NX054-01 | ZEBCO | HANDLE WASHER |
| LV045-01 | ZEBCO | DRAG WASHER KIT |
| BH007-13 | ZEBCO | BAIL ARM |
| TP4080-05 | ZEBCO | DRAG WASHER |
| WW033 | ZEBCO | TENSION KNOB |
| WW085 | ZEBCO | LEVEL WIND GEAR |
| WW072 | ZEBCO | WORM |
| WW363 | ZEBCO | A/R PAWL |
| WW006 | ZEBCO | PAWL |
| 9885 | CARDINAL | BAIL SPRING |
| CW059 | ZEBCO | DRAG DISC |
| ZQ347-01 | ZEBCO | BAIL WIRE |
| ZQ347-02 | ZEBCO | BAIL ASSY |
| ZQ347-03 | ZEBCO | BAIL ASSY |
| ZQ347-04 | ZEBCO | BAIL ASSY |
| SQ318-52 | ZEBCO | HANDLE |
| FH347-04 | ZEBCO | BAIL WIRE |
| GU347-12 | ZEBCO | BAIL WIRE |
| FH347-03 | ZEBCO | BAIL WIRE |
| PH347-01 | ZEBCO | BAIL WIRE |
| 6-F12-2001 | DAIWA | A/R CAM SPRING |
| 6-E35-7801 | DAIWA | TRIP LEVER |
| 6-B02-7801 | DAIWA | TRIP LEVER |
| 6-L11-8201 | DAIWA | A/R DOG |
| 6-E90-5201 | DAIWA | LEVER HOLDER SPRING (?) |
| 6-B78-4404 | DAIWA | DRAG SPRING WASHER |
| 6-781-4601 | DAIWA | A/R LEVER |
| 6-K04-9801 | DAIWA | BAIL SPRING |
| 6-K12-0701 | DAIWA | LONG NARROW SPRING |
| 6-L01-8201 | DAIWA | LINE ROLLER |
| 6-L06-7001 | DAIWA | BAIL SPRING |
| 6-501-8501 | DAIWA | HANDLE NUT LOCK |
| 6-E46-4101 | DAIWA | TRIP LEVER |
| 6-E50-6001 | DAIWA | LINE ROLLER |
| 6-E39-0601 | DAIWA | BAIL SPRING |
| 6-F06-6301 | DAIWA | LINE ROLLER WASHER |
| 6-B67-5201 | DAIWA | BAIL SPRING |
| 6-B92-4901 | DAIWA | WASHER-NYLON |
| 6-B09-1401 | DAIWA | A/R SPRING |
| 6-B18-7702 | DAIWA | BAIL SPRING |
| 6-B45-1501 | DAIWA | BUSHING |
| 6-B91-6501 | DAIWA | BAIL SPRING |
| 6-K00-0301 | DAIWA | DRAG SPRING WASHER |
| 6-041-7101 | DAIWA | A/R DOG |
| 6-E00-7101 | DAIWA | SCREW |
| 6-783-0201 | DAIWA | PICKUP PIN |
| 6-151-5701 | DAIWA | TENSION SPRING |
| 6-E04-5801 | DAIWA | BAIL SPRING |
| 6-E21-3401 | DAIWA | BAIL SPRING |
| 6-200-2984 | DAIWA | PICKUP PIN |
| 6-180-3812 | DAIWA | PICKUP PIN |
| 6-B91-6601 | DAIWA | TRIP LEVER |
| 6-350-1931 | DAIWA | SCREW |
| 6-352-1101 or 6-353-1101 | DAIWA | SCREW (Might be 6-352-1104) |
| 6-353-8201 | DAIWA | SCREW |
| 6-B16-5502 | DAIWA | HANDLE KNOB SCREW |
| 6-637-4511 or 6-637-4801 | DAIWA | BUSHINGS (2 SIZES) |
| 6-783-0001 | DAIWA | PICKUP PIN |
| 6-B05-5201 | DAIWA | O-RING |
| 6-B67-5105 | DAIWA | TRIGGER |
| 6-142-5111 | DAIWA | PICK UP PIN |
| B67-4901 | DAIWA | ? |
| B76-9301 | DAIWA | ? |
| B60-3401 | DAIWA | ? |
| B93-6602 | DAIWA | ? |
| 363-5302 | DAIWA | HANDLE SCREW-B |
| B08-7301 | DAIWA | SCREW |
| 363-8511 | DAIWA | SCREW |
| B45-7401 | DAIWA | TRIP LEVER |
| 352-251 | DAIWA | A/R LEVER SCREW |
| B89-8501 | DAIWA | SPRING |
| B48-9901 | DAIWA | DRAG WASHER |
| B91-6001 | DAIWA | BAIL TRIP LEVER |
| AG | DAIWA | TRIGGER LINK |
| 6-745-7901 | DAIWA | HANDLE |
| 6-B11-8010 | DAIWA | SCREW |
| 6-320-5901 | DAIWA | C-CLIP |
| 1-250-3921 | DAIWA | LINE ROLLER |
| B79-8101 | DAIWA | DRAG WASHER SPRING |
| B77-5004 | DAIWA | DRAG WASHER |
| 6-373-3603 | DAIWA | WASHER-METAL |
| 6-B78-1401 | DAIWA | CLICK GEAR |
| W59-6801 | DAIWA | FRONT COVER |
| 736-7801 | DAIWA | ROTOR |
| W51-0201 | DAIWA | ROTOR |
| B75-5901 | DAIWA | BODY |
| W32-0001 | DAIWA | ROTOR |
| QH318-01 | ZEBCO | HANDLE |
| QH318-04 | ZEBCO | HANDLE |
| GU318-43 | ZEBCO | HANDLE |
| UJ318-05 | ZEBCO | HANDLE |
| XU318-01 | ZEBCO | HANDLE |
| 6-B79-7801 | DAIWA | DRAG WASHER |
| 6-B46-9504 | DAIWA | DRAG WASHER |
| B91-6701 | DAIWA | BAIL ARM |
| B86-4601 | DAIWA | BAIL ARM |
| E03-3801 | DAIWA | BAIL ARM |
| B67-4601 | DAIWA | BAIL ARM |
| E18-8401 | DAIWA | BAIL ARM |
| B68-1102 | DAIWA | BAIL ARM |
| E00-7501 | DAIWA | BAIL ARM |
| B67-5102 | DAIWA | TRIGGER |
| B82-2701 | DAIWA | DRIVE GEAR |
| B59-0701 | DAIWA | BAIL ARM |
| B68-8801 | DAIWA | BAIL SPRING COVER SCREW |
| 725-8513 | DAIWA | BAIL ARM |
| B74-7201 | DAIWA | TRIP LEVER |
| E48-5802 | DAIWA | DRAG KNOB |
| B83-5002 | DAIWA | SCREW |
| K00-1701 | DAIWA | UNK NAME |
| K00-5501 | DAIWA | A/R PAWL |
| 6-F61-2401 | DAIWA | HANDLE |
| W59-5301 | DAIWA | CAP |
| W59-5501 | DAIWA | HANDLE STAND |
| W59-5601 | DAIWA | HANDLE |
| W32-0701 | DAIWA | HANDLE METAL |
| W31-7101 | DAIWA | HANDLE SCREW |
| | | |
| W54-6401 | DAIWA | CLICK PAWL SPRING |
| W54-7001 | DAIWA | DRAG SPRING |
| W54-7301 | DAIWA | DRAG BASE |
| W54-7201 | DAIWA | CLICK SPRING |
| W54-7101 | DAIWA | DRAG SPRING WASHER |
| W54-6301 | DAIWA | PAWL SPRING |
| W31-7101 | DAIWA | HANDLE SCREW |
| G92-9501 | DAIWA | HANDLE ASSY |
| W34-2901 | DAIWA | SCREW |
| 782-9932 | DAIWA | OSC PLATE |
| W54-8301 | DAIWA | A/R PAWL |
| W54-9401 | DAIWA | CLICK PAWL |
| W54-9601 | DAIWA | DRAG KNOB SCREW |
| W32-0101 | DAIWA | LINE STOPPER |
| 171-5201 | DAIWA | O-RING |
| W31-9801 | DAIWA | ROTOR |
| 734-3212 | DAIWA | SPOOL |
| H14-9201 | DAIWA | HANDLE |
| G92-5101 | DAIWA | HANDLE |
| 382-1721 | DAIWA | SHAFT METAL |
| E59-1503 | DAIWA | CAST CONTROL CAP |
| 040-3207 | DAIWA | HANDLE NUT PLATE |
| B17-5501 | DAIWA | CAP RUBBER WASHER |
| W34-4501 | DAIWA | A/R PAWL |
| W34-4401 | DAIWA | A/R SPRING |
| F31-6801 | DAIWA | LINE ROLLER BUSHING |
| Z00-2984 | DAIWA | PICK UP PIN |
| Z00-2985 | DAIWA | PICK UP PIN |
| W60-0801 | DAIWA | CLICK SPRING |
| W59-6401 | DAIWA | CAP RUBBER WASHER |
| E25-3901 | DAIWA | SPACING SLEEVE |
| B17-5405 | DAIWA | SPACER |
| G79-3301 | DAIWA | HANDLE NUT |
| W32-0901 | DAIWA | HANDLE SCREW |
| W31-7001 | DAIWA | HANDLE WASHER |
| 375-0801 | DAIWA | OSC PAWL WASHER |
| Z00-2986 | DAIWA | PICK UP PIN |
| 353-8301 | DAIWA | HANDLE NUT PLT SCREW |
| DH318-01 | ZEBCO | HANDLE |
| QT318-02 | ZEBCO | HANDLE |
| G92-8301 | DAIWA | HANDLE |
| G92-9501 | DAIWA | HANDLE ASSEMBLY |
| BA024 | ZEBCO | BAIL LEVER SCREW |
| H44-1001 | DAIWA | CLUTCH CAM |
| H21-3602 | ZEBCO | CAST CONTROL CAP |
| BA032 | ZEBCO | DRAG KNOB |
| 160-8001 | DAIWA | LOCK WASHER |
| 736-7601 | DAIWA | ROTOR |
| LV003-01 | ZEBCO | HANDLE NUT |
| AV4059-01 | ZEBCO | DRAG DISC KIT |
| NV008-02 | ZEBCO | CRANK SHAFT |
| G49-4701 | DAIWA | DRAG KNOB |
| W32-0901 | DAIWA | HANDLE SCREW |
| W31-7001 | DAIWA | HANDLE WASHER |
| W31-9801 | DAIWA | ROTOR |
| W59-7001 | Daiwa | handle |
| B93-9601 | DAIWA | SPOOL TENSION SPRING |
| B03-4803 | DAIWA | |
| B93-9702 | DAIWA | CAST CONTROL CAP |
| B17-5401 | DAIWA | CAP METAL WASHER |
| E57-1601 | DAIWA | COUNTER |
| H01-7601 | DAIWA | RIGHT SIDE PLATE |
| F40-4801 | DAIWA | HANDLE COLLAR |
| F23-8401 | DAIWA | BAIL ARM |
| 071-0512 | DAIWA | DRIVE GEAR SHAFT |
| F95-0201 | DAIWA | LINE GUIDE WASHER |
| E57-4101 | DAIWA | PAWL CAP |
| E57-4001 | DAIWA | LINE GUIDE PAWL |
| E57-3601 | DAIWA | WORM BEARING |
| E57-3301 | DAIWA | WORM SHAFT |
| W31-9801 | DAIWA | ROTOR |
| 747-8102 | DAIWA | HANDLE |
| | | |
| 375-7405 | DAIWA | SPACER |
| 781-6519 | DAIWA | PUSH BUTTON |
| E57-3801 | DAIWA | COUNTER GEAR |
| F09-2101 | DAIWA | COUNTER |
| WD4-0201 | DAIWA | HANDLE KNOBS |
| W59-8501 | DAIWA | HANDLE STAND |
| W60-5801 | DAIWA | CAST CONTROL CAP |
| W54-7501 | DAIWA | HANDLE SCREW |
| W54-7601 | DAIWA | HANDLE KNOB |
| F12-0501 | DAIWA | A/R LEVER SPRING |
| E30-5203 | DAIWA | HANDLE, COMPLETE |
| F89-7101 | DAIWA | LINE ROLLER WASHER |
| G98-0701 | DAIWA | A/R CAM |
| G98-1101 | DAIWA | ANTI REVERSE PAWL SPRD |
| LW355-01 | QUANTUM | DRAG STAR FOR BAIT |
| 056 710 | PENN | FIBER WASHER |
| VAA332-01 | ZEBCO | |
| ZW007-02 | ZEBCO | Pawl Cap Screw E600ptia |
| UAA332-01 | ZEBCO | Drag Knob Assy E30ptic |
| QG332-11 | ZEBCO | Drag Knob Assy KT20ptic |
| UAA353-01 | ZEBCO | O/S Gear Assy EX25-30 |
| TK347-01 | ZEBCO | BAIL WIRE |
| RK347-01 | ZEBCO | BAIL WIRE |
| RK347-02 | ZEBCO | BAIL WIRE |
| 50-209 | PENN | WORM SHIELD |
| 64-309 | PENN | IDLER GEAR |
| 50-330N | PENN | WORM SHIELD |
| 50-345 | PENN | WORM SHIELD |
| 57-109 | PENN | DRAG SPRING |
| 50-310 | PENN | WORM SHIELD |
| 55-805T | PENN | BEARING |
| 64-310 | PENN | IDLER GEAR |
| 47-320 | PENN | PAWL |
| 32-014CH | PENN | SIDE COVER SCREW |
| UNK PART # | PENN | PENN 754 BAIL ARM |
| 47-340 | PENN | PAWL |
| 47-975 | PENN | PAWL |
| 48-330N | PENN | PAWL CAP |
| 48-109 | PENN | PAWL CAP |
| 50-109 | PENN | WORM SHIELD |
| 46-310 | PENN | LINE GUIDE |
| 64-209 | PENN | IDLER GEAR |
| 46-320N | PENN | LINE GUIDE |
| 46-330N | PENN | LINE GUIDE |
| 46-340 | PENN | LINE GUIDE |
| 47-109 | PENN | PAWL |
| 46-309 | PENN | LINE GUIDE |
| 45-340 | PENN | GEAR – Small Part |
| 46-9 | PENN | LINE GUIDE |
| 46-109 | PENN | LINE GUIDE |
| 46-209 | PENN | LINE GUIDE (2 WITH WORM GEAR) |
| 43-109 | PENN | PAWL CAP |
| 44N-109 | PENN | BEARING |
| 45-109 | PENN | WORM GEAR |
| 45N-209 | PENN | WORM GEAR |
| 45-9 | PENN | WORM GEAR |
| 42-330N | PENN | WORM |
| 42-340 | PENN | WORM |
| 42-345 | PENN | WORM |
| 42-320N | PENN | WORM |
| 41-060 | PENN | SPRING |
| 40C-320 | PENN | METAL THRUST WASHER |
| 41-330 | PENN | RIGHT SIDE THRUST SPRING |
| 41-220 | PENN | SPRING |
| 26B-220 | PENN | SPOOL CAP |
| 42-109 | PENN | WORM |
| 42-209 | PENN | WORM |
| 42-310 | PENN | WORM |
| 38-8 | PENN | SCREW |
| 52-704 | PENN | DRAG KNOB |
| 38-340 | PENN | SCREW |
| 39-1 | PENN | SCREW |
| 1182922 | PENN | TOUNG CLICK |
| 40-060 | PENN | BEARING CAP |
| 40D-320 | PENN | RUBBER THRUST WASHER |
| 40C-220 | PENN | METAL THRUST WASHER |
| 40D-220 | PENN | RUBBER THRUST WASHER |
| FW318-01 | 2 | Handle |
| 030-066 | PENN | FOOT – 0.2 weight |
| 30-114 | PENN | FOOT – 0.2 weight |
| 30-20T | PENN | FOOT – 0.2 weight |
| 30-65 | PENN | FOOT – 0.2 weight |
| 69-9500 | PENN | MANUAL CONVERSION KIT |
| BAA347-04 | ZEBCO | BAIL WIRE |
| LG347-02 | ZEBCO | BAIL WIRE |
| QG347-11 | ZEBCO | BAIL WIRE |
| 35-155 | PENN | CLICK PAWL |
| 132-100 | PENN | LINE ROLLER WASHER |
| 22A-875 | PENN | ECCENTRIC WASHER |
| 305-875 | PENN | CONTROL BOX SCREW |
| 35A-1000 | PENN | LINE ROLLER BUSHING |
| 36-1000 | PENN | BAIL STUD SCREW |
| 35-320 | PENN | CLICK PAWL |
| 36N-209 | PENN | CLICK BUTTON |
| 36-320 | PENN | CLICK BUTTON |
| 36-700 | PENN | WORM SHAFT NUT |
| 32-017 | PENN | SIDE PLATE SCREW |
| 32-22 | PENN | L.S. STAND SCREW |
| 32-105C | PENN | BAIL SPRING |
| 32-310 | PENN | SIDE PLATE SCREW |
| 35-060 | PENN | CLICKER PAWL |
| 26B-320 | PENN | CAST CONTROL CAP (2 TYPES) |
| 31-10 | PENN | SCREW |
| 42M-965 | PENN | WORM GEAR |
| 31-210 | PENN | SCREW |
| 31-340 | PENN | SCREW |
| 32-2 | PENN | SCREW |
| 20-109 | PENN | ECCENTRIC SPRING |
| 20-155 | PENN | ECCENTRIC SPRING |
| 23-60 | PENN | HANDLE SCREW |
| 23-114 | PENN | HANDLE SCREW |
| 26B-310 | PENN | CAST CONTROL CAP |
| 17-9 | PENN | UPPER BRIDGE SCREW |
| 17-60 | PENN | UPPER BRIDGE SCREW |
| 17-113H | PENN | UPPER BRIDGE SCREW |
| 18-60 | PENN | CLUTCH SPRING |
| 11-60 | PENN | SCREW |
| 20-60 | PENN | ECCENTRIC SPRING |
| 15-310 | PENN | DOG |
| 15-330 | PENN | DOG, RATCHET |
| 16-60 | PENN | SCREW |
| 21-109 | PENN | ECCENTRIC LEVER |
| 16-113H | PENN | SCREW |
| 15-10 | PENN | DOG |
| 15-109 | PENN | DOG |
| 15-210 | PENN | DOG |
| 15-209 | PENN | DOG |
| 15-309 | PENN | DOG |
| 14-99 | PENN | DOG SPRING |
| 14-109 | PENN | DOG SPRING |
| 14-330 | PENN | DOG SPRING |
| 14-500 | PENN | DOG SPRING |
| 15-9 | PENN | A/R DOG |
| 24-160 | PENN | HANDLE |
| 24-310 | PENN | HANDLE |
| 24-320 | PENN | HANDLE |
| 24-66 | PENN | HANDLE |
| 24-55 | PENN | HANDLE |
| 24-109 | PENN | HANDLE |
| 24-40P | PENN | HANDLE – Big Part |
| 13-155 | PENN | PINION GEAR |
| 13-310 | PENN | PINION GEAR |
| 13N-320 | PENN | PINION GEAR |
| 14-9 | PENN | DOG SPRING |
| 14-10 | PENN | DOG SPRING |
| 13-9 | PENN | PINION GEAR |
| 13-10 | PENN | PINION GEAR |
| 13-60 | PENN | PINION GEAR |
| 13-109 | PENN | PINION GEAR |
| 13-140 | PENN | PINION GEAR |
| 06-60 | PENN | DRAG WASHER |
| 06-113H | PENN | DRAG WASHER |
| 06-155 | PENN | DRAG WASHER |
| 06-320 | PENN | DRAG WASHER |
| 05-113 | PENN | DRIVE GEAR– Small Part |
| 05-113H | PENN | DRIVE GEAR– Small Part |
| 05-155 | PENN | DRIVE GEAR – Small Part |
| 05-310 | PENN | DRIVE GEAR – Small Part |
| 05N-320 | PENN | DRIVE GEAR – Small Part |
| 05-500 | PENN | DRIVE GEAR – Small Part |
| 04-60 | PENN | WASHER |
| 04-155 | PENN | WASHER Graphite |
| 04-349 | PENN | WASHER |
| 05-10 | PENN | DRIVE GEAR– Small Part |
| 05-109 | PENN | DRIVE GEAR– Small Part |
| 03-9 | PENN | BRIDGE – Large Part |
| 03-10 | PENN | BRIDGE – Large Part |
| 03-109 | PENN | BRIDGE – Large Part |
| 03-155 | PENN | BRIDGE – Large Part |
| 03-210 | PENN | BRIDGE – Large Part |
| 03-330 | PENN | BRIDGE – Large Part |
| 03-320 | PENN | BRIDGE – Large Part |
| 03-310 | PENN | BRIDGE – Large Part |
| 711117 | PENN | SIDE PLATE |
| 03-309 | PENN | BRIDGE – Large Part |
| 33C-113 | PENN | ROD CLAMP KIT |
| | PENN | |
| 13N-330 | PENN | PINION GEAR |
| 32-103 | PENN | BAIL SPRING |
| 6-309 | PENN | DRAG WASHER |
| 40-60 | PENN | LEFT SIDE BEARING |
| 10-49 | PENN | DRAG STAR |
| 31-60 | PENN | SCREW |
| 30-700 | PENN | SPRING |
| 32-700 | PENN | BAIL SPRING |
| 35-60 | PENN | CLICKER PAWL |
| 36-209 | PENN | CLICK BUTTON |
| 31-155 | PENN | SCREW |
| 26-109 | PENN | RIGHT SIDE BEARING |
| 31-??? | PENN | SCREW 2 SIZES |
| 33-200 | PENN | ROD CLAMP |
| 58-109 | PENN | POST |
| 40-85 | PENN | LEFT SIDE BEARING |
| 30-49 | PENN | PINION GEAR |
| 21-309 | PENN | ECCENTRIC LEVER |
| 21-209 | PENN | ECCENTRIC LEVER |
| 22-60 | PENN | ECCENTRIC SCREW |
| 18-185 | PENN | CURVED PLATE |
| 21-130 | PENN | ECCENTRIC LEVER |
| 22-109 | PENN | ECCENTRIC SCREW |
| 40-114 | PENN | CAST CONTROL KNOB – Large Part |
| 21-285 | PENN | ECCENTRIC LEVER |
| 19-209 | PENN | ECCENTRIC |
| 40-320 | PENN | BEARING |
| 22-99 | PENN | ECCENTRIC SCREW |
| 21-049 | PENN | ECCENTRIC LEVER |
| 40-114H | PENN | BEARING CAP |
| 41-109 | PENN | BEARING SPRING-LEFT SIDE |
| 41-60 | PENN | BEARING SPRING-LEFT SIDE |
| 11-049 | PENN | ECCENTRIC JACK |
| 10-24 | PENN | ROD CLAMP SCREW |
| G35-4101 | DAIWA | BAIL |
| F09-3701 | DAIWA | L/S PLATE |
| W33-7911 | DAIWA | BAIL |
| 683-9802 | DAIWA | HANDLE SCREW |
| G94-3501 | DAIWA | BODY FOR SPIN REEL |
| W54-6801 | DAIWA | DRAG KNOB MOOCH |
| 1183308 | PENN | Washer |
| 1182138 | PENN | Cap |
| 1181908 | PENN | Screw |
| RD3680 | SHIMANO | BAIL ASSY |
| RD3680 | SHIMANO | BAIL ASSY |
| RZ310-02 | ZEBCO | SPINNER HEAD |
| 5530 | SHAKESPEARE | BODY |
| 970565 | ABU | SPOOL |
| 1120352 | ABU | Side Plate Assy |
| 1102464 | JOHNSON | HANDLE |
| 1207100 | MITCHELL | HANDLE SCREW |
| 1207143 | MITCHELL | HANDLE |
| 20650 | ABU | BEARING WASHER |
| 1141463 | ABU | Handle Screw Cap |
| 1134456 | | |
| 1115430 | ABU | CAST CONTROL CAP |
| 1116147 | ABU | Spanner Protection Washer |
| 21714 | ABU | RETAINER |
| 1128343 | ABU | Bail Arm |
| 1128343 | ABU | Dust Cap |
| 1134456 | ABU | THUMBAR |
| 1116909 | ABU | Spool Control Cap |
| 21928 | ABU | Thumbar Pillar |
| 23944 | ABU | Level Wind Guard |
| 1078236 | ABU | Cast Control Cap |
| 142-5111 | UNK MANUF | YOKE SPRING |
| 1188162 | ABU | HANDLE ASSEMBLY |
| UNKNOWN | SHAKESPEARE | HANDLE |
| 1116106 | ABU | Handle Nut |
| 1133855 | ABU | O-Ring |
| 22031 | ABU | Power Handle |
| 22031 | | Power Handle |
| 22031 | ABU | Power Handle |
| 1256961 | MITCHELL | HANDLE 300 |
| 25574 | ABU | DRAG KNOB COMPLETE |
| 1252763 | MITCHELL | HANDLE ASSY 300 |
| 12486 | ABU | RIGHT SPOOL CAP |
| 12108 | ABU | WASHER |
| 977301 | ABU | BAIL MOUNT ASSY |
| 977289 | ABU | FAST CAST LEVER KIT |
| 977286 | ABU | BAIL ARM |
| 977292 | ABU | A/R COLLAR & DOG ASSY |
| 977287 | ABU | |
| 977290 | ABU | BAIL SPRING |
| 13590 | ABU | HANDLE CAP |
| 977295 | ABU | BAIL SPRING KIT |
| 72101 | ABU | HANDLE SCREW |
| 13585 | ABU | SCREW |
| 753fc | ABU | FAST CAST LEVER ASSY |
| 73083 | ABU | HANDLE NUT |
| 70045 | ABU | HANDLE NUT |
| 5326 | ABU | UNK NAME |
| 72069 | ABU | BAIL ARM |
| 73111 | ABU | MAIN GEAR |
| 977287 | ABU | BAIL SCREW |
| 70602 | ABU | HANDLE NUT |
| 34038 | ABU | DRAG KNOB |
| 72102 | ABU | WASHER |
| 34038 | ABU | DRAG KNOB |
| 34015 | ABU | HANDLE SCREW |
| 33626 | ABU | LINE ROLLER |
| 33627 | ABU | ROLLER WASHER |
| 34011 | ABU | ROLLER BUSHING |
| 34114 | ABU | HANDLE NUT |
| 34010 | ABU | LINE ROLLER |
| 1083506 | ABU | HANDLE SCREW WASHER |
| 5147 | ABU | STAR WHEEL-RED |
| 33647 | ABU | HANDLE NUT |
| 14607 | ABU | ANTI INERTIA BRAKE |
| 20944 | ABU | HANDLE NUT COVER |
| 23007 | ABU | HANDLE |
| 21200 | ABU | MAIN GEAR |
| 14664 | ABU | A/R DOG |
| 23954 | ABU | PINION BRASS |
| 1102164 | ABU | HANDLE SCREW CAP |
| 1121558 | ABU | PAWL |
| 23955 | ABU | MAIN GEAR BRASS |
| 1119916 | ABU | COIL SPRING |
| 6955 | ABU | SPRING WASHER-LOWER 7000 |
| 1116134 | ABU | PILOT GUIDE |
| 6956 | ABU | SPRING WASHER – UPPER 7000 |
| 975395 | ABU | LINE CARRIAGE |
| 1116133 | ABU | LINE CARRIAGER NUT |
| 21875 | ABU | ? |
| 1145119 | PFLUEGER | BEARING |
| 1102163 | ABU | HANDLE NUT CAP |
| 73012 | ABU | HANDLE |
| 35674 | ABU | HANDLE |
| 5624 | ABU | SPOOL COMPLETE STANDARD 6000 |
| 37190 | ABU | HANDLE |
| 8718 | ABU | SIDE PLATE-RIGHT |
| 975059 | ABU | SIDE PLATE-LEFT (BLACK) |
| 1121606 | ABU | WORM SHAFT -RIVETED |
| 1102085 | ABU | HANDLE SCREW CAP |
| 21932 | ABU | Thumb bar guide |
| 22017 | ABU | Worm gear cog |
| 1116145 | ABU | Spring |
| 1120312 | ABU | Pawl Shaft |
| 301 | ABU | Screw |
| 9089765 | ABU | Ball Bearing |
| 1145513 | ABU | Handle |
| 6-114HSP | PENN | Drag Kit |
| 114380 | ABU | Thumb Button Support |
| 1143802 | ABU | THUMB BUTTON |
| 1103259 | Pflueger | Screw |
| 21930 | ABU | Engagement Pin |
| 6969 | ABU | Drive Shaft Shim |
| 1078236 | ABU | Cast Cap |
| 21600 | ABU | Handle |
| 9886 | ABU | Bail Spring |
| 22017 | ABU | Worm Gear Cog |
| 1116131 | ABU | BUSHING |
| 1100984 | ABU | TRIP LEVER |
| 20720 | ABU | YOKE POM |
| 23313 | ABU | Line Guide |
| 1116134 | ABU | Pilot Guide |
| 1116108 | ABU | Spacer |
| 20664 | ABU | PINION YOKE |
| 1141338 | PFLUEGER | HANDLE |
| 1116096 | Abu | osc-cog wheel |
| 19486 | ABU | Pinion Gear |
| 20925 | ABU | STAR DRAG |
| 25309 | ABU | HANDLE, DUAL RED W/ PEARL KNOBS |
| 8724 | ABU | HANDLE: (AMBASSADEUR 5000C HANDLE) |
| 14695 | ABU | DRAG KNOB |
| 33775 | ABU | HANDLE |
| 977291 | ABU | ROTOR |
| 977299 | ABU | FAST CAST LEVER ASSY |
| 979116 | ABU | BAIL ARM |
| 977361 | ABU | HANDLE |
| 977411 | ABU | WASHER KIT |
| 19361 | ABU | DRIVE SHAFT BEARING |
| 19409 | ABU | PAWL RETAINER |
| 11321 | ABU | SHOULDER SCREW |
| 5126 | ABU | DRIVE GEAR W/ CLICKER SPRING |
| 20934 | ABU | HANDLE LOCK PLATE |
| 19373 | ABU | SPOOL PINION |
| 19456 | ABU | SPOOL CONTROL KNOB |
| 19417 | ABU | WORM GEAR |
| 19681 | ABU | SPRING WASHER |
| 19686 | ABU | WASHER |
| 21100 | ABU | PINION GEAR BUSHING |
| 20257 | ABU | WORM |
| ABU WORM | ABU | WORM |
| 20801 | ABU | COG WHEEL |
| 2495 | ABU | WORM SHIELD |
| 20666 | ABU | COG GEAR |
| ABU SPR WASHER | ABU | SPRING WASHER |
| 13036 | ABU | GEAR |
| 13091 | ABU | LINE GUIDE PAWL |
| 31602 | ABU | BAIL ARM |
| 32934 | ABU | TRIGGER |
| 33873 | ABU | HANDLE |
| 33880 | ABU | HANDLE SCREW |
| 34282 | ABU | HANDLE SCREW |
| 97422 | ABU | BAIL ARM |
| 977060 | ABU | LINE GUIDE KIT |
| 975512 | ABU | HANDLE NUT |
| 977055 | ABU | ANTI-INERTIA |
| 977061 | ABU | BAIL ARM |
| 977062 | ABU | BAIL SPRING MODULE |
| 9008 | ABU | DRAG WASHER |
| 9915 | ABU | MAIN GEAR |
| 1083439 | ABU | SPOOL HOLDER WASHER |
| 975381 | ABU | WORM GEAR |
| 975602 | ABU | CARRIAGE SHAFT |
| 975362 | ABU | LINE PAWL + LINE PAWL RETAINER |
| 975357 | ABU | PINION GEAR |
| 977002 | ABU | HANDLE NUT |
| 977009 | ABU | A/R MODULE |
| 977004 | ABU | COVER PLATE SCREW |
| 977294 | ABU | FC FAST CAST LEVER MOD |
| 6940 | ABU | PINION GEAR |
| 6806 | ABU | PINION GEAR |
| 23935 | ABU | WORM GEAR |
| 5680 | ABU | OSC GUIDE |
| 7072 | ABU | GEAR/CLICK WHEEL |
| 976186 | ABU | PUSH BUTTON |
| 975396 | ABU | WORM |
| 975369 | ABU | WORM |
| 975387 | ABU | DRAG WASHER KIT |
| 5173 | ABU | CARRIAGE SCREW BEARING |
| 5177 | ABU | LINE CARRIAGE NUT |
| 5178 | ABU | CARRIAGE SCREW LOCK |
| 5179 | ABU | HANDLE, DUAL KNOB |
| 9830 | ABU | STAR WHEEL |
| 5206 | ABU | WORM SHAFT GUARD |
| 977251 | ABU | PINION GEAR |
| 977213 | ABU | BAIL SCREW |
| 977297 | ABU | A/R COLLAR & DOG |
| ABU SPR WASHER | ABU | SPRING WASHER |
| 13584 | ABU | SCREW |
| 13582 | ABU | SCREW RIGHT SIDE PLATE |
| 977250 | ABU | TRIP LEVER ARM KIT |
| 977246 | ABU | BAIL TRIP |
| 1092602 | ABU | Gear |
| 5585 | ABU | DRAG PRESSURE PLATE |
| 5587 | ABU | RATCHET LOCK ARM |
| 5591 | ABU | BRAKE SPRING WASHER |
| 5579 | ABU | A/R DOG |
| 977300 | ABU | BAIL SPRING |
| 977303 | ABU | A/R COLLAR & DOG |
| 5584 | ABU | DRAG WASHER |
| ABU SCREW | ABU | SCREW-LONG |
| 35940 | ABU | HANDLE |
| ABU VARIOUS | ABU | VARIOUS PARTS |
| 977089 | ABU | DRIVE & PINION GEAR |
| 1121095 | ABU | SPOOL |
| 1101782 | ABU | ROTOR |
| 9072144 | ABU | HANDLE |
| 25231 | ABU | HANDLE (RED) |
| 1092376 | ABU | GOLD HANDLE (BOX) |
| 1094185 | ABU | HANDLE – |
| 33678 | ABU | HANDLE WASHER |
| 33646 | ABU | HANDLE SCREW |
| 33737 | ABU | HANDLE NUT |
| 15344 | ABU | SPRING |
| 31325 | ABU | A/R DOG |
| 31375 | ABU | OSC SLIDE |
| 1103259 | ABU | DRAG KNOB |
| 23309 | ABU | HANDLE NUT COVER |
| 31367 | ABU | BAIL ARM |
| 11326 | ABU | COVER PLATE |
| 975440 | ABU | SPOOL BUSHING & SPRING |
| 111317 | ABU | SHAFT FOR WORM GEAR |
| 4468 | ABU | PIN |
| 1125806 | ABU | PAWL |
| 1125828 | ABU | RUBBER WASHER |
| 1125805 | ABU | WORM |
| 1125736 | ABU | WASHER |
| 1125829 | ABU | FRICTION WASHER |
| 1129323 | ABU | LINE GUIDE NUT |
| 10782 | ABU | SCREW |
| 11357 | ABU | O-RING |
| 1092778 | ABU | HANDLE SCREW CAP |
| 22046 | ABU | CLICKER |
| 22006 | ABU | LINE OUT ALARM SWITCH |
| 23827 | ABU | BUSHING |
| 23805 | ABU | ACTIVATOR BAR |
| 31229 | ABU | PIN-OBSOLETE |
| 31273 | ABU | BAIL ARM |
| 31252 | ABU | HANDLE |
| 31263 | ABU | BAIL SPRING |
| 31262 | ABU | BAIL ARM |
| 14697 | ABU | DRAG KNOB SCREW |
| 11163 | ABU | BAIL ARM |
| 11174 | ABU | SCREW-C3 |
| 14691 | ABU | HANDLE CAP |
| 1083882 | ABU | MAIN GEAR BUSHING RIVETED |
| 1083881 | ABU | MAIN GEAR SPACER |
| 14628 | ABU | BAIL SPRING COVER |
| 1127705 | ABU | PINION |
| 1127703 | ABU | YOKE |
| 14622 | ABU | BAIL SPRING |
| 1134361 | ABU | worm shaft |
| 14724 | ABU | BAIL SPRING |
| 14627 | ABU | COVER SCREW |
| 977658 | ABU | BAIL SCREW |
| 14725 | ABU | BAIL SCREW |
| 8574 | ABU | WORM SHAFT |
| 14623 | ABU | BAIL SCREW |
| 14618 | ABU | SIDE PLATE SCREW…C3, C4, C5 |
| 1111873 | ABU | HANDLE NUT |
| 977643 | ABU | A/R DOG |
| 35734 | ABU | BAIL WIRE |
| 14638 | ABU | LINE BUSHING |
| 14698 | ABU | DRAG HUB SCREW |
| 14696 | ABU | DRAG BOLT |
| 35552 | ABU | DRAG KNOB W/ SCREW |
| 1116372 | ABU | HANDLE C3 |
| 23832 | ABU | HANDLE |
| 1121654 | ABU | HANDLE |
| 1117921 | ABU | HANDLE |
| 5210 | ABU | HANDLE, RED W/ COUNTERWEIGHT |
| 1252090 | ABU | handle |
| 1248987 | ABU | HANDLE |
| 1117952 | ABU | BAIL WIRE |
| 1118115 | ABU | BAIL WIRE |
| 1117953 | ABU | BAIL WIRE |
| 1117969 | ABU | HANDLE NUT |
| 1092781 | ABU | BUSHING |
| 51213 | ABU | GEAR LOCK RATCHET |
| 1117954 | ABU | WASHER |
| 11172 | ABU | LOCK WASHER |
| 18-114 | PENN | CLUTCH SPRING |
| 12-60 | PENN | YOKE |
| 18-9 | PENN | CLUTCH SPRING |
| 30-085 | PENN | REEL FOOT – 0.2 weight |
| UNK PART # | PENN | SPRING WASHER |
| 64-330 | PENN | IDLER GEAR |
| 76-350 | PENN | DOG, SPIRAL BAR |
| 32-104 | PENN | BAIL SPRING |
| 08-060 | PENN | SPRING WASHER |
| 5P025 | PENN | DRIVE GEAR |
| 78-350 | PENN | DOG, SPIRAL GEAR |
| 64-340 | PENN | IDLER GEAR |
| 66-320 | PENN | GEAR w/ RATCHET |
| 62-309 | PENN | CLICKER RING |
| 110-60 | PENN | SCREW |
| 67-9 | PENN | DRIVE GEAR LOCK SPRING |
| 66-209 | PENN | LEVEL WIND GEAR |
| 66-9 | PENN | LEVEL WIND DRIVE GEAR |
| 69B-50 | PENN | E-CLIP |
| 65-209 | PENN | IDLER GEAR SCREW |
| 67-209 | PENN | DRIVE GEAR LOCK SPRING |
| 64-9 | PENN | IDLER GEAR |
| 63-209 | PENN | CLICKER SPRING SCREW |
| 69B-600 | PENN | E-CLIP |
| 62M-209 | PENN | CLICKER SPRING |
| 62-309 | PENN | CLICKER SPRING |
| 62-155 | PENN | CLICKER SPRING |
| 1101955 | ABU | ROTOR ASSY-ABU276 |
| 1102177 | ABU | HANDLE- G2000 |
| 1103392 | ABU | HANDLE- G500UL |
| 1102176 | ABU | HANDLE-S2000 |
| 23061 | ABU | HANDLE |
| 9182335 | ABU | ALU SPOOL 200M/0.30 |
| 35-1000 | PENN | LINE ROLLER |
| 60-320 | PENN | WASHER |
| 39-113 | PENN | SCREW |
| EMPTY PENN | PENN | EMPTY PENN |
| EMPTY PENN | PENN | EMPTY PENN |
| 15-104 | PENN | Handle Complete |
| 15C-103 | PENN | PIN |
| 15B-104 | PENN | HANDLE SHAFT |
| 43-9 | PENN | RIGHT SIDE WORM BEARING |
| 32-704 | PENN | BAIL SPRING |
| 32-720 | PENN | BAIL SPRING |
| 44-109 | PENN | WORM BEARING |
| 45-309 | PENN | WORM GEAR |
| 45-209 | PENN | WORM GEAR |
| 15-720 | PENN | HANDLE |
| 16-9 | PENN | SPACING SLEEVE |
| 16-9 | PENN | SPACING SLEEVE ??? |
| 64-320 | PENN | IDLER GEAR |
| 52-750 | PENN | HANDLE KNOB |
| 10-60 | PENN | DRAG STAR |
| 09-60 | PENN | SPACING SLEEVE |
| 09-309 | PENN | SPACING SLEEVE |
| 12-155 | PENN | YOKE |
| 11-155 | PENN | ? |
| 14-60 | PENN | A/R DOG SPRING |
| 05-60 | PENN | DRIVE GEAR – Small Part |
| 06-115 | PENN | DRAG WASHER |
| 06-500 | PENN | DRAG WASHER |
| EMPTY PENN | PENN | EMPTY PENN |
| EMPTY PENN | PENN | EMPTY PENN |
| 07c-49 | PENN | Drag Washer Kit |
| 1118096 | ABU | Anti-Reverse Button |
| 07-60 | PENN | WASHER-METAL |
| 07-155 | PENN | WASHER-METAL |
| 07-500 | PENN | WASHER-METAL |
| 15-85 | PENN | DOG |
| 15-99 | PENN | DOG |
| 1078093 | ABU | ADJUSTMENT RING |
| 1085600 | ABU | HANDLE |
| 1101749 | ABU | OSC SLIDER |
| 20931 | ABU | HANDLE |
| 51227 | ABU | REEL FOOT |
| 1116888 | ABU | LEFT SIDE PLATE |
| 14613 | ABU | SIDE COVER…C-4 |
| 5169 | ABU | WORM SHAFT |
| 21766 | ABU | HANDLE |
| VD4050-01 | MARTIN | SPOOL RELEASE KIT |
| 51261 | ABU | BELL COVER |
| 11146 | ABU | BALL BEARING |
| 23403 | ABU | CLICK AND COGWHEEL POM |
| 22807 | ABU | CLUTCH ARM |
| 15816 | ABU | HANDLE |
| 1102461 | JOHNSON | CRANK SCREW |
| 802628 | ABU | MAIN SHAFT – AXLE 5000-5500C |
| 1085322 | ABU | SCREW 13 |
| 1085273 | ABU | ROTOR NUT 10 |
| 9182486 | ABU | DRIVE GEAR |
| 9182475 | ABU | WORM SHAFT & GEAR |
| 31-?? | PENN | CLICK BUTTON-2 SIZES |
| 58-209 | PENN | POST |
| EMPTY PENN | PENN | EMPTY PENN |
| 24390 | ABU | RETURN SPRING |
| 37-155 | PENN | POST |
| 39-1 | PENN | SCREW |
| 1102129 | ABU | BUSHING |
| 1102103 | ABU | SPOOL ALUMINUM S2000 |
| 36-?? | PENN | SCREW |
| 20171 | ABU | DRAG WASHER |
| 39-6 | PENN | SCREW |
| 39-9 | PENN | SCREW |
| 23-180 | PENN | HANDLE SCREW |
| UNK PART # | PENN | RIGHT SIDE BEARING |
| EMPTY PENN | PENN | EMPTY PENN |
| EMPTY PENN | PENN | EMPTY PENN |
| 25-155 | PENN | HANDLE KNOB (GREEN OVAL) – Big Part |
| 26-155 | PENN | RIGHT SIDE BEARING |
| 26-60 | PENN | RIGHT SIDE BEARING |
| 32-716 | PENN | BAIL SPRING |
| 32-710 | PENN | BAIL SPRING |
| 26-9 | PENN | RIGHT SIDE BEARING |
| 15-714 | PENN | HANDLE-GOLD SHAFT |
| 24540 | ABU | HANDLE, 7000 C3 |
| 1096360 | ABU | GRAPHITE SPOOL |
| 20718 | ABU | MAIN THRUST WASHER |
| 977040 | ABU | HANDLE |
| 977057 | ABU | TRIP ARM AND SCREW |
| 37014 | ABU | BAIL SPRING |
| 70138 | ABU | BAIL ARM |
| 20213 | ABU | PINION GEAR |
| 977058 | ABU | KIT |
| 975053 | ABU | DRAG WASHER |
| 977051 | ABU | DRAG KNOB W/ SCREW |
| ABU DRAG KNOB | ABU | DRAG KNOB ASSY |
| 975051 | ABU | MAIN GEAR |
| 977083 | ABU | BAIL ARM |
| 977372 | ABU | COVER SCREWS |
| 977384 | ABU | OSC GEAR |
| 977407 | ABU | OSC GEAR |
| 977375 | ABU | CASHING |
| 977394 | ABU | TRIP LEVER |
| 977050 | ABU | BAIL TRIP LEVER SPRING KIT |
| 4054 | ABU | SPRING |
| | ABU | PRESS ARM SPRING |
| 977080 | ABU | BAIL TRIP LEVER SPRING KIT |
| 977038 | ABU | BAIL SPRING |
| 977400 | ABU | ROLLER MOUNT ASSY |
| 977032 | ABU | DRAG WASHER KIT |
| 977023 | ABU | BAIL ARM |
| ABU TRIGGER | ABU | TRIGGER LINK (977??) |
| 877021 | ABU | BAIL SCREW |
| 20172 | ABU | DRAG WASHER |
| 977016 | ABU | ANTI-INERTIA BRAKE |
| 977385 | ABU | A/R DOG KIT |
| 977367 | ABU | A/R DOG KIT |
| 977374 | ABU | DRAG KNOB |
| 14636 | ABU | LINE ROLLER |
| 977368 | ABU | A/R DOG KIT |
| 977398 | ABU | BAIL ARM |
| 14676 | ABU | OSC ARM |
| 975365 | ABU | LINE CARRIAGE |
| 14807 | ABU | COVER PLATE |
| 977393 | ABU | BAIL SPRING |
| 977381 | ABU | HANDLE |
| 977399 | ABU | BAIL ARM |
| 977396 | ABU | BAIL SCREW |
| 14624 | ABU | BAIL ARM |
| 977383 | ABU | CONNECTING LINK |
| 977373 | ABU | CAST CONTROL CAP |
| 14682 | ABU | HANDLE |
| 977362 | ABU | SCREW |
| 977417 | ABU | TRIP LEVER ARM ASSY |
| 977416 | ABU | BAIL SPRING |
| 977392 | ABU | MAIN SHAFT |
| 977419 | ABU | BAIL SCREW |
| 977422 | ABU | BAIL ARM |
| 977500 | ABU | A/R ARM |
| 23061 | ABU | HANDLE (23931)23061 |
| 977992 | ABU | BAIL SPRING |
| 70002 | ABU | WASHER |
| 4469 | ABU | PINION GEAR |
| 12500 | ABU | HANDLE |
| 23814 | ABU | FENDER POM-GREY |
| 977997 | ABU | A/R RATCHET |
| 5189 | ABU | DRIVE SHAFT SHIM |
| 13365 | ABU | DRAG WASHER |
| 977408 | ABU | A/R DOG ASSY |
| 977611 | ABU | MAIN GEAR |
| 20685 | ABU | LINK ARM-RIVETED |
| 2498 | ABU | LEVEL WIND TUBE COMPLETE |
| 977613 | ABU | BAIL SCREW |
| 21717 | ABU | SPOOL CAP-RIGHT |
| 8745 | ABU | CLICK LEVER |
| 977601 | ABU | A/R SWITCH |
| 22209 | ABU | LOCK PLATE ACETAL (RED) |
| 7111117 SUB: 1217124 | ABU | SCREW |
| 977592 | ABU | BAIL SPRING |
| 3936 | ABU | HANDLE NUT LOCK |
| 14704 | ABU | SPRING WASHER-C4 |
| 977599 | ABU | A/R KIT |
| 32835 | ABU | BAIL ARM |
| 977495 | ABU | SIDE PLATE SCREW |
| 6916 | ABU | LINE GUIDE |
| 15094 | ABU | DRAG WASHER-LARGE |
| 977883 | ABU | BAIL SPRING |
| 977501 | ABU | OSC SLIDE |
| 977512 | ABU | FC INTERNAL ARM |
| 977496 | ABU | CARDINAL SIDE COVER 564 |
| 977520 | ABU | BAIL SPRING |
| 20090 | ABU | AXLE CLIP |
| 15653 | ABU | HANDLE HEX NUT |
| 1101785 | ABU | STAND SCREW |
| 977514 | ABU | TRIGGER |
| 977616 | ABU | BAIL SCREW |
| 22001 | ABU | A/R SLEEVE |
| 7023 | ABU | A/R SWITCH |
| 35534 | ABU | BAIL SPRING |
| 10274 | ABU | HANDLE LOCK NUT |
| 20907 | ABU | DRAG WASHER |
| 1844 | ABU | Brake Block, Small |
| 5181 | ABU | HANDLE RETAINING SCREW |
| 5174 | ABU | LINE GUIDE COMPLETE |
| 977515 | ABU | TRIP LEVER SPRING |
| 33715 | ABU | BAIL SPRING |
| 4505 | ABU | HANDLE LOCK NUT |
| 975034 | ABU | PILLAR SCREW |
| 23404 | ABU | COG WHEEL POM SUB 21800 |
| 12647 | ABU | ALARM SWITCH |
| 975040 | ABU | LINE GUIDE |
| 977516 | ABU | BAIL SPRING COVER w/ SCREW |
| 5152 | ABU | COG WHEEL SUB 21800 |
| 976023 | ABU | PUSH BUTTON w/ SPRING |
| 33618 | ABU | BAIL ARM |
| EMPTY SHIMANO | SHIMANO | |
| 33742 | ABU | WORM PAWL |
| 975050 | ABU | CLICK WHEEL |
| 35553 | ABU | SPOOL CLIP |
| 24602 | ABU | WORM SHAFT COMPL. (SIZE 4) |
| 95495 | ABU | HANDLE NUT COVER |
| 975057 | ABU | DRIVE GEAR |
| 13369 | ABU | SCREW |
| 4465 | ABU | PULL SPRING 5/6000 |
| 975055 | ABU | DRAG WASHER KIT |
| 6951 | ABU | DRAG WASHER |
| 975069 | ABU | SPOOL CAP-RIGHT |
| 31212 | ABU | BAIL SPRING |
| 975073 | ABU | GEAR |
| 975143 | ABU | CLICK KIT |
| 975155 | ABU | DRIVE GEAR |
| 301-ABU | ABU | 301 HANDLE LOCK SCREW |
| 4490 | ABU | C-CLIP |
| 975160 | ABU | A/R DOG |
| 6953 | ABU | DRAG WASHER (METAL) |
| 977799 | ABU | TRIGGER |
| 6970 | ABU | FRICTION WASHER |
| 977798 | ABU | BAIL SCREW |
| 24881 | ABU | SENSORING BAR COMPLETE |
| 977797 | ABU | BAIL ARM |
| 21716 | ABU | CAST CONTROL CAP COMPLETE |
| 20917 | ABU | SHIM |
| 4581 | ABU | HANDLE NUT LOCK |
| 977802 | ABU | TRIGGER SLIDE |
| 977804 | ABU | BAIL SPRING |
| ABU 304 | ABU | SCREW (304 SCREW) |
| 14701 | ABU | SPRING WASHER-C4 |
| 977800 | ABU | TRIGGER SCREW |
| 23939 | ABU | WORM GEAR |
| 5327 | ABU | HANDLE NUT |
| 977796 | ABU | HANDLE RETAINING SCREW |
| 7079 | ABU | DRAG WASHER PERIMETER |
| 6952 | ABU | DRAG WASHER |
| 977737 | ABU | DIFFERENT SIZES |
| 1094155 | ABU | BAIL SPRING |
| 977815 | ABU | A/R SPRING |
| 977813 | ABU | A/R SWITCH |
| 8907 | ABU | SCREW |
| 977528 | ABU | A/R DOG SPRING |
| 10477 | ABU | RELEASE TRIGGER |
| 24854 | ABU | SENSOR BAR COMPLETE |
| 3915 | ABU | ADJ. WASHER |
| 23840 | ABU | THUMB REST BAR |
| UNK | | THUMB BUTTON UNK REEL |
| 977751 | ABU | TRIGGER ARM SLIDE |
| 977707 | ABU | BAIL SCREW |
| 1880 | ABU | BRAKE BLOCK |
| 5176 | ABU | PAWL |
| 977710 | ABU | TRIGGER SLIDE ARM SCREW |
| 8744 | ABU | ALARM BUTTON 5-7000 |
| 5230 | ABU | BALL BEARING 5000-7000 D3 D10 |
| 977711 | ABU | TRIGGER SLIDE |
| 25230 | ABU | SCREW |
| 8846 | ABU | C-CLIP |
| 977715 | ABU | BAIL SPRING |
| 14868 | ABU | SCREW |
| 22804 | ABU | SPRING |
| 977701 | ABU | BAIL ARM |
| 8904 | ABU | FERRULE |
| 6947 | ABU | MAIN GEAR COMPLETE |
| 977702 | ABU | BAIL MOUNT SHAFT |
| 5115 | ABU | FRICTION WASHER |
| 5150 | ABU | SPOOL TENSION SPRING |
| 5328 | ABU | HANDLE NUT |
| 977708 | ABU | TRIGGER |
| 977737 | ABU | TRIGGER |
| 977728 | ABU | BAIL WIRE |
| 1083473 | ABU | COG 308X |
| 13244 | ABU | BUSHING |
| 977722 | ABU | A/R BRAKE |
| 1094103 | ABU | TRIP LEVER PLATE |
| 3902 | ABU | DRAG WASHER |
| 19347 | ABU | YOKE |
| 13472 | ABU | BALL BEARING |
| 977814 | ABU | A/R SWITCH PIN |
| 3903 | ABU | DRAG WASHER |
| 5447 | ABU | HANDLE LOCK SCREW |
| 977810 | ABU | HANDLE RETAINING SCREW |
| 1094104 | ABU | TRIP LEVER PLATE SCREW |
| 1094153 | ABU | BAIL TRIP PISTON |
| 977785 | ABU | TRIPLEVER |
| 977785 | ABU | INTERNAL TRIP LEVER |
| 22079 | ABU | MAINGEAR |
| 22079 | ABU | MAIN GEAR BUSHING RIVETED |
| 977732 | ABU | BAIL ARM |
| 1068006 | ABU | PICK UP ARM SPRING (274/275 |
| 977793 | ABU | LINE ROLLER |
| 1094154 | ABU | BAIL ARM LEVER 2 |
| 8720 | ABU | SPOOL BUSHING |
| 31164 | ABU | PRE SET KNOB |
| 31170 | ABU | PRE SET KNOB COVER |
| 31165 | ABU | FIGHT KNOB SWITCH |
| 31194 | ABU | A/R SWITCH KNOB |
| 31209 | ABU | LINE ROLLER WASHER |
| 31184 | ABU | BAIL SPRING |
| 17775 | ABU | LINE ROLLER |
| 31216 | ABU | A/R PAWL SPRING |
| 1094156 | ABU | BAIL TRIP LEVER |
| 14729 | ABU | TRIP LEVER COVER |
| 23943 | ABU | WORM GEAR |
| 24788 | ABU | ACTIVATOR BAR |
| ABU 246 | ABU | BRIDGE SCREW |
| 13169 | ABU | DRAG WASHER |
| 24603 | ABU | CARRIAGE SCREW |
| 10267 | ABU | BRAKE BLOCK-GRAY |
| 20209 | ABU | BRAKE BLOCK-BLUE |
| 5133 | ABU | DRIVE SHAFT BEARING |
| 8721 | ABU | HANDLE |
| 51253 | ABU | STAR WHEEL |
| 6950 | ABU | DRAG WASHER |
| 20208 | ABU | BRAKE BLOCK |
| 19372 | ABU | CLUTCH WASHER |
| 51247 | ABU | DRAG WASHER |
| 73162 | ABU | DRAG KNOB |
| 96183 | ABU | ON/OFF SWITCH |
| 12134 | ABU | SPACING SLEEVE |
| 95314 | ABU | THUMB REST |
| 95310 | ABU | THUMB REST |
| 96275 | ABU | THUMB REST |
| 4056 | ABU | SPRING |
| 95367/95385 | ABU | BRAKE KNOB / BRAKE KNOB GOLD |
| 73025 | ABU | STOPPER SPRING |
| 73032 | ABU | RATCHET SPRING |
| 73033 | ABU | HANDLE CAP BUSHING |
| 73018 | ABU | WASHER |
| 70108 | ABU | HANDLE NUT |
| 38435 | ABU | HANDLE, WOOD |
| 38312 | ABU | HANDLE |
| 38237 | ABU | TRIGGER GM LITE |
| 37576 | ABU | BAIL ARM |
| 35714 | ABU | MAIN GEAR |
| 35549 | ABU | SCREW |
| 35514 | ABU | MAIN GEAR |
| 35657 | ABU | BAIL ARM |
| 35656 | ABU | BAIL ARM |
| 36168 | ABU | TRIGGER |
| 4530 | ABU | PINION GEAR |
| 4528 | ABU | MAIN GEAR |
| 3909 | ABU | CLICKER PAWL C-LOCK |
| 21876 | ABU | CLICK SPRING |
| 21805 | ABU | CLICK KNOB |
| 10214 | ABU | LEVEL WIND TUBE COMPLETE |
| 10212 | ABU | LINE CARRIAGE COMPLETE |
| 199 | ABU | PILLAR SCREW |
| 1881 | ABU | BRAKE BLOCK LARGE |
| 1884 | ABU | BRAKE BLOCK LARGE |
| 10256 | ABU | SPOOL SHAFT SPRING |
| 5141 | ABU | SIDE PLATE THUMB NUT |
| 286 | ABU | SCREW |
| 4275 | ABU | WASHER |
| 13076 | ABU | PAWL RETAINER |
| 5146 | ABU | FELT OIL RETAINER |
| 5137 | ABU | PINION GEAR |
| 5134 | ABU | A/R DOG |
| 5142 | ABU | SPOOL BEARING LOCK |
| 5143 | ABU | SPOOL SHAFT BEARING |
| 6833 | ABU | LINE RELEASE BUTTON |
| 24104 | ABU | HANDLE NUT |
| 13279 | ABU | CAM |
| 1115096 | ABU | SIDE SCREWS |
| 96280 | ABU | THUMBREST 6000 SERIES |
| 13094 | ABU | SPOOL AXLE SHIM |
| 13063 | ABU | GEAR |
| 375395 | ABU | LINE CARRIAGE |
| 13109 | ABU | Spool Control Knob Complete |
| 5188 | ABU | DRIVE SHAFT |
| 2497 | ABU | WORM GUARD |
| 13048 | ABU | SPRING |
| 13065 | ABU | PINION GEAR |
| 13068 | ABU | GEAR-PLASTIC |
| 21800 | ABU | COG WHEEL POM |
| 23504 | ABU | CONTROL LEVER |
| 23523 | ABU | CONTROL LEVER |
| 1252738 | ABU | DUST CAP FOR ORRA |
| 13533 | ABU | DRIVE SHAFT |
| 301530 | ABU | SCREW |
| ABU COG GEAR | ABU | COG GEAR-ABU MAX SPRINT |
| EMPTY ABU | ABU | |
| 12664 | ABU | GEAR |
| 5172 | ABU | WORM SHIELD |
| 24879 | ABU | SENSORING BAR COMPLETE LH |
| EMPTY ABU | ABU | |
| 25233 | ABU | CAST CONTROL CAP |
| EMPTY ABU | ABU | |
| 15364 | ABU | MAIN GEAR |
| 15137 | ABU | WORM SHAFT |
| 15033 | ABU | PLATE SCREW |
| 5145 | ABU | BASE WASHER-BRONZE |
| EMPTY ABU | ABU | |
| 15363 | ABU | BASE WASHER |
| 11955 | ABU | BRAKE BLOCK |
| 15184 | ABU | BAIL ARM |
| 15118 | ABU | LINE GUIDE |
| 15461 | ABU | SCREW |
| 15536 | ABU | LEFT SIDE PLATE NUTS |
| 15374 | ABU | SCREW |
| 15093 | ABU | DRAG PLATE |
| 21807 | ABU | CLICK SPRING |
| 15576 | ABU | NUT (KIT) |
| 15455 | ABU | PICK UP PIN RET |
| 15456 | ABU | PICK UP PIN |
| 39367 | ABU | BAIL SPRING |
| EMPTY ABU | ABU | |
| 17911 | ABU | LINE ROLLER |
| 17765 | ABU | TRIGGER SLIDE ARM |
| 17801 | ABU | OSC. SLIDER |
| 17913 | ABU | SCREW |
| 17839 | ABU | TRIGGER SLIDE ARM |
| 17918 | ABU | TRIGGER SLIDE ARM |
| 17929 | ABU | DRIVE GEAR WASHER |
| EMPTY ABU | ABU | |
| 15096 | ABU | MAIN GEAR |
| 18000 | ABU | LINE ROLLER RACE |
| 18001 | ABU | LINE ROLLER SCREW |
| EMPTY ABU | ABU | |
| EMPTY ABU | ABU | |
| 17787 | ABU | TRIGGER SLIDE ARM SCREW |
| 975158 | ABU | HNDL NUT LCK KIT |
| EMPTY ABU | ABU | |
| 17794 | ABU | E-CLIP |
| 37575 | ABU | DRAG KNOB |
| EMPTY ABU | ABU | |
| EMPTY ABU | ABU | |
| 33623 | ABU | HINGE SPRING |
| 31316 | ABU | BAIL RETAINER SHAFT |
| 35705 | ABU | BEARING |
| 35590 | ABU | TRIGGER PIN |
| 35537 | ABU | ROLLER SCREW |
| 32824 | ABU | BAIL SPRING |
| 32836 | ABU | BAIL SPRING |
| 1083483 | ABU | FRICTION WASHER |
| 37081 | ABU | HANDLE SCREW |
| 20211 | ABU | BRAKE BLOCK |
| 7078 | ABU | CLICK WHEEL |
| 15651 | ABU | HANDLE NUT LOCK |
| 20569 | ABU | WORM GEAR |
| 3904 | ABU | WASHER |
| 13372 | ABU | A/R DOG |
| 10271 | ABU | DRAG WASHER |
| 13588 | ABU | HANDLE LOCK |
| 23828 | ABU | SPACER-GREY |
| 19754 | ABU | INTERMEDIATE GEAR POM NATURE C |
| 4464 | ABU | CLICK SPRING |
| 15359 | ABU | HANDLE HEX NUT |
| 96274 | ABU | HANDLE LOCK PLATE |
| 15652 | ABU | HANDLE NUT LOCK SCREW |
| 13104 | ABU | WASHER |
| 5154 | ABU | SHIM |
| 21680 | ABU | WORM BEARING |
| 24756 | ABU | WORM SHAFT |
| 1101763 | ABU | BEARING |
| 5144 | ABU | CAST CONTROL CAP RIGHT COMPLETE |
| 23857 | ABU | LINE GUIDE |
| 22084 | ABU | HANDLE BEARING |
| 6968 | ABU | NUT (BRASS) |
| 24777 | ABU | SENSORING BAR |
| 20848 | ABU | PINION GEAR |
| 11413 | ABU | COVER PLATE |
| 11426 | ABU | BAIL ARM |
| 11412 | ABU | BAIL ATTACHMENT |
| 11443 | ABU | HANDLE |
| 11323 | ABU | CONN. LINK |
| 25572 | ABU | LIFT DISC RIGHT COMPLETE |
| 5229 | ABU | O-RING |
| 5131 | ABU | SPRING WASHER-STEEL |
| 51245 | ABU | HANDLE STEM |
| 6912 | ABU | WORM SHAFT |
| 5205 | ABU | WORM SHAFT |
| 51241 | ABU | HANDLE HOLDER ASSY |
| 5151 | ABU | LEFT SPOOL CAP ASSY |
| 6954 | ABU | KEYED WASHER |
| 10888 | ABU | WORM GEAR |
| 10265 | ABU | SHAFT RETAINER |
| 10239 | ABU | CAST CONTROL CAP |
| 24549 | ABU | LINE GUIDE |
| 14705 | ABU | GEAR |
| 5182 | ABU | HANDLE NUT |
| 1066250 | ABU | BAIL SPRING |
| 21591 | ABU | BALL BEARING |
| 10708877 | ABU | CLICK RATCKET |
| 24542 | ABU | STAR WHEEL COMPLETE |
| 51264 | ABU | HANDLE |
| 23339 | ABU | WORM GEAR |
| 1085271 | ABU | CLICK GEAR |
| 1117949 | ABU | CLICK GEAR WASHER |
| EI082-01 | ZEBCO | |
| EI105-01 | ZEBCO | |
| EI032-01 | ZEBCO | |
| 1126376 | ABU | MAIN SHAFT RATCHET |
| 975041 | ABU | BRAKE PLATE SPRING |
| 1083440 | ABU | MAIN SHAFT RATCHET |
| 17315 | ABU | STAR DRAG |
| 21515 | ABU | Main Gear Bushing Complete |
| 1097271 | ABU | SPOOL CAP C674 + 1 screw |
| 1107607 | ABU | CRANK ASSY C774 CARDINAL SPIN |
| 4053 | ABU | SPRING S/S |
| 1066289 | ABU | MAIN SHAFT WASHER |
| 1116725 | ABU | BRAKE WEIGHT |
| 1104748 | ABU | SPOOL TENSION WASHER |
| 61553 | ABU | LINE PAWL |
| 1115093 | ABU | TRIP PLUNGER C-3 |
| 1104745 | ABU | LEAF SPRING |
| 1104747 | ABU | SPOOL COVER SCREW |
| 1088456 | ABU | CRANK SCREW WASHER |
| 1118093 | ABU | PINION GEAR (C502/503) |
| 1116907 | ABU | HANDLE |
| 1094184 | ABU | PINION |
| 1121441 | ABU | Wormshaft Complete |
| 1121448 | ABU | Middle Gear |
| 1133883 | ABU | HANDLE SCREW CAP |
| AMB4000 | ABU | WORM & PAWL KIT 4000 |
| AMB5000 Kit | ABU | |
| AMB6000 | ABU | WORM & PAWL KIT 6000 |
| AMB7000 | ABU | WORM & PAWL KIT 7000 |
| 25195 | ABU | WORM GEAR 6600 C5 MAG |
| 1066287 | ABU | HANDLE NUT |
| 31219 | ABU | HANDLE NUT |
| 73097 | ABU | HANDLE NUT |
| 35512 | ABU | RETAINER SCREW |
| 677313 | ABU | HANDLE NUT |
| 977041 | ABU | HANDLE NUT |
| 35654 | ABU | HANDLE NUT |
| 21996 | ABU | WORMSHAFT |
| 35613 | ABU | HANDLE NUT |
| 35017 | ABU | HANDLE NUT |
| BNT1327 | SHIMANO | IDLE GEAR |
| BNT1433 | SHIMANO | IDLE GEAR |
| BNT1921 | SHIMANO | CAST CONTROL CAP |
| RD3414 | SHIMANO | DRAG KNOB |
| BNT1995 | SHIMANO | CAST CONTROL CAP |
| BNT2224 | SHIMANO | SPOOL TENSION SPACER |
| BNT1892 | SHIMANO | CAST CONTROL CAP |
| RD4695 | SHIMANO | DRAG KNOB |
| RD6573 | SHIMANO | A/R LEVER |
| RD1418 | SHIMANO | DRAG KNOB |
| RD5405 | SHIMANO | DRAG KNOB |
| UNKNOWN | SHIMANO | TRIGGER LINK |
| TGT0223 | SHIMANO | BEARING |
| RD5507 | SHIMANO | FIGHTIN' DRAG LEVER |
| NO PART # | SHIMANO | BAIL SPRING |
| BNT1451 | SHIMANO | CAST CONTROL CAP ASSY |
| BNT1116 | SHIMANO | CAM SPRING |
| BNT0042 | SHIMANO | LINE GUIDE PAWL |
| RD6508 | SHIMANO | BAIL ARM |
| BNT2064 | SHIMANO | DRAG WASHER |
| RD2017 | SHIMANO | DRAG COIL SPRING |
| MISC SHIMANO | SHIMANO | WASHERS, |
| RD2257 | SHIMANO | DRAG WASHER "H1" |
| MISC | SHIMANO | SCREWS |
| RD4826 | SHIMANO | BAIL HOLD SUPPORT SPACER |
| RD4373 | SHIMANO | QUICK FIRE II TRIGGER |
| RD4388 | SHIMANO | BAIL ARM |
| RD4271 | SHIMANO | A/R CAM |
| RD5520 | SHIMANO | FIGHTIN' DRAG LEVER |
| RD4359 | SHIMANO | BAIL ARM |
| RD4364 | SHIMANO | QUICK FIRE II TRIGGER |
| RD4392 | SHIMANO | BAIL ARM |
| RD4287 | SHIMANO | DRAG KNOB ASSY |
| RD4348 | SHIMANO | QUICK FIRE II TRIGGER |
| RD3804 | SHIMANO | A/R LOCK OUT SPRING |
| RD4652 | SHIMANO | BAIL PIVOT |
| BNT1876 | SHIMANO | THUMB REST SCREW |
| RD7818 | SHIMANO | REAR PROTECTOR SCR |
| BNT0191 | SHIMANO | L/R SIDEPLATE SCREW |
| RD3869 | SHIMANO | A/R LOCK OUT SPRING |
| RD2409 | SHIMANO | SHIM |
| RD4350 | SHIMANO | BAIL ARM |
| RD6524 | SHIMANO | WORM SHAFT BUSHING (REAR) |
| RD6061 | SHIMANO | OSC PAWL |
| RD4051 | SHIMANO | SPRING |
| RD4095 | SHIMANO | DRIVE GEAR |
| RD4160 | SHIMANO | TRIGGER CAM |
| RD7942 | SHIMANO | WORM SHAFT |
| RD7950 | SHIMANO | OSC SLIDER |
| BNT1802 | SHIMANO | O-RING |
| RD3746 | SHIMANO | OSCILLATING SLIDER RETAINER |
| RD3733 | SHIMANO | BAIL SPRING |
| RD3769 | SHIMANO | DRAG KNOB |
| RD3766 | SHIMANO | OSCILLATING SLIDER |
| RD3794 | SHIMANO | DRAG KNOB SCREW |
| RD3682 | SHIMANO | SPRING |
| RD3687 | SHIMANO | A/R RATCHET |
| RD3688 | SHIMANO | A/R LOCK OUT |
| RD3693 | SHIMANO | A/R CAM |
| RD3656 | SHIMANO | A/R RATCHET |
| RD3659 | SHIMANO | A/R PAWL SPRING |
| RD3660 | SHIMANO | A/R CAM |
| RD3673 | SHIMANO | OSCILLATING GEAR |
| RD3676 | SHIMANO | DRAG KNOB |
| RD3486 | SHIMANO | OSCILLATING PAWL |
| RD3506 | SHIMANO | BAIL SPRING GUIDE |
| RD3651 | SHIMANO | TRIP LEVER |
| RD3652 | SHIMANO | BAIL SPRING GUIDE |
| RD3429 | SHIMANO | DRAG KNOB |
| RD3465 | SHIMANO | A/R LOCK OUT SPRING |
| 24-155 | PENN | HANDLE-BLACK |
| 24-155 | PENN | HANDLE-IVORY |
| 24-160 | PENN | HANDLE (ORIGINAL) |
| 8722 | ABU | HANDLE |
| RD3459 | SHIMANO | BAIL SPRING GUIDE |
| RD3466 | SHIMANO | A/R LOCK OUT |
| RD3055 | SHIMANO | BAIL ARM |
| RD3126 | SHIMANO | BAIL WIRE |
| RD3397 | SHIMANO | BAIL SPRING |
| RD5994 | SHIMANO | SPOOL RELEASE BUTTON |
| RD3435 | SHIMANO | DRAG KNOB |
| SHIMANO UNK | SHIMANO | MISC |
| RD2387 | SHIMANO | PINION GEAR |
| RD2429 | SHIMANO | IDLER GEAR |
| RD2857 | SHIMANO | TRIGGER LINKS |
| RD2336 | SHIMANO | WORM BEARING (FRONT) |
| RD2861 | SHIMANO | TRIGGER LINKS |
| RD2311 | SHIMANO | OSCILLATING SLIDER |
| RD3749 | SHIMANO | DRAG WASHER "C" WHITE |
| RD3751 | SHIMANO | DRAG WASHER |
| RD2343 | SHIMANO | OSCILLATING SLIDER RET |
| RD2344 | SHIMANO | OSCILLATING SLIDER |
| RD2390 | SHIMANO | IDLER GEAR |
| RD2279 | SHIMANO | A/R RATCHET |
| RD2280 | SHIMANO | A/R LOCK OUT |
| RD2288 | SHIMANO | WORM BEARING |
| RD2300 | SHIMANO | OSCILLATING PAWL |
| RD2310 | SHIMANO | OSCILLATING SLIDER RETAINER |
| RD1508 | SHIMANO | BAL SPRING GUIDE "A" |
| RD2275 | SHIMANO | BAL SPRING GUIDE "B" |
| RD0813 | SHIMANO | LEVER SPRING |
| RD0844 | SHIMANO | DRAG KNOB |
| RD1004 | SHIMANO | BUSHING "A" |
| RD1426 | SHIMANO | SPOOL WASHER |
| RD0551 | SHIMANO | O-RING |
| RD0781 | SHIMANO | BAIL SPRING |
| RD0807 | SHIMANO | BAIL ARM |
| RD0808 | SHIMANO | BAIL SPRING |
| UNKNOWN PART # | SHIMANO | STAR WASHER |
| RD1442 | SHIMANO | HANDLE NUT-GREY |
| RD1442 | SHIMANO | HANDLE NUT(BLACK) |
| RD0197 | SHIMANO | BAIL TRIP SIDE CAM |
| RD1355 | SHIMANO | WASHER |
| TGT0063 | SHIMANO | CLICK PAWL |
| RD5440 | SHIMANO | DRAG KNOB |
| RD2852 | SHIMANO | LOCK |
| BNT0002 | SHIMANO | HANDLE NUT |
| BNT1922 | SHIMANO | CAST CONTROL SPACER |
| BNT1252 | SHIMANO | WASHER |
| BNT1677 | SHIMANO | SPOOL TENSION SPACER |
| RD3645 | SHIMANO | DRAG KNOB |
| RD5440 | SHIMANO | DRAG KNOB (ALSO SEE 0924) |
| RD3776 | SHIMANO | DRAG WASHER "C" (CLOTH) |
| RD2404 | SHIMANO | IDLER GEAR RETAINER |
| RD4650 | SHIMANO | BAIL HOLD SUPPORT SHAFT |
| RD4661 | SHIMANO | A/R CAM RING |
| RD6260 | SHIMANO | REAR PROTECTOR |
| BNT0803 | SHIMANO | SPOOL TENSION SPACER "A" |
| BNT1697 | SHIMANO | SPOOL TENSION SPRING |
| RD3767 | SHIMANO | OSCILLATING SLIDER RETAINER |
| BNT1676 | SHIMANO | SPOOL TENSION SPACER "B" |
| BNT1487 | SHIMANO | CAST CONTROL CAP ASSY |
| BNT1600 | SHIMANO | CAST CONTROL CAP ASSY |
| BNT0009 | SHIMANO | CAST CONTROL SPACER |
| BNT1696 | SHIMANO | CAST CONTROL SPACER |
| RD4425 | SHIMANO | BAIL ASSY |
| RD5180 | SHIMANO | DRAG KNOB |
| MCR0006 | SHIMANO | HANDLE SCREW |
| RD0548 | SHIMANO | KEY WASHER |
| BNT0060 | SHIMANO | SPACER |
| BNT0908 | SHIMANO | DRAG WASHER |
| BNT3505 | SHIMANO | BRAKE COLLAR/RED |
| RD0244 | SHIMANO | BUSHING |
| BNT1212 | SHIMANO | DRAG WASHER |
| BNT1830 | SHIMANO | BEARING |
| BNT0032 | SHIMANO | CLIP |
| RD4429 | SHIMANO | BAIL ARM |
| RD3848 | SHIMANO | BAIL SPRING GUIDE |
| BNT1627 | SHIMANO | YOKE |
| RD1025 | SHIMANO | HANDLE |
| RD4454 | SHIMANO | HANDLE |
| RD5548 | SHIMANO | HANDLE |
| RD3699 | SHIMANO | HANDLE |
| RD13436 | SHIMANO | HANDLE FOR MOST |
| RD39699 | SHIMANO | HANDLE |
| RD4543 | SHIMANO | HANDLE-DOUBLE PADDLE |
| RD3413 | SHIMANO | HANDLE BLACK |
| RD5439 | SHIMANO | HANDLE-GREY |
| RD1038 | SHIMANO | LINE ROLLER |
| BNT2119 | SHIMANO | NUT PLATE SCREW |
| BNT0830 | SHIMANO | SPACER |
| RD7826 | SHIMANO | REAR PROTECTOR NUT |
| RD7945 | SHIMANO | REAR PROTETOR NUT |
| RD9431 | SHIMANO | BEARING |
| RD6010 | SHIMANO | NUT LOCK PLATE SCREW |
| RD4639 | SHIMANO | BAIL SPRING GUIDE |
| BNT0188 | SHIMANO | O-RING |
| RD4367 | SHIMANO | LINE ROLLER SCREW |
| RD4947 | SHIMANO | BAIL ARM |
| RD5628 | SHIMANO | LINE ROLLER COLLAR |
| RD5629 | SHIMANO | LINE ROLLER BUSHING |
| RD5625 | SHIMANO | LINE ROLLER SPACER |
| RD3359 | SHIMANO | LINE ROLLER WASHER |
| RD3419 | SHIMANO | BAIL SPRING |
| RD8553 | SHIMANO | BALL BEARING |
| RD9220 | SHIMANO | HANDLE |
| RD4161 | SHIMANO | TRIGGER CAM |
| RD0026 | SHIMANO | BALL BEARING |
| RD3418 | SHIMANO | BAIL SPRING GUIDE |
| 19545 | ABU | THUMB REST |
| RD6489 | SHIMANO | |
| RD7792 | SHIMANO | SCREW |
| RD1678 | SHIMANO | SPRING |
| RD4375 | SHIMANO | BAIL ARM |
| TT0187 | SHIMANO | CLICK SPRING SCREW |
| TT0501 | SHIMANO | SIDE PLATE SCREW |
| BNT1703 | ABU | Idle Gear |
| BNT1703 | SHIMANO | IDLER GEAR 400 CALCUTTA |
| MCR0025 | SHIMANO | Anti-Reverse Pawl Spring |
| TGT0214 | SHIMANO | HANDLE NUT |
| RD4354 | SHIMANO | BAIL WIRE |
| RD5442 | SHIMANO | MAINSHAFT |
| RD7167 | SHIMANO | FRAME |
| RD3409 | SHIMANO | BAIL WIRE |
| RD8849 | SHIMANO | Bail |
| RD6636 | SHIMANO | BAIL WIRE |
| RD3675 | SHIMANO | HANDLE |
| MCR0065 | SHIMANO | DRAG KNOB |
| RD6512 | SHIMANO | FRAME (STRADIC 2000FG |
| 7980001501 | MARTIN | FLY REEL KNOB KIT |
| RD7887 | SHIMANO | HANDLE |
| RD9427 | SHIMANO | BAILSPRING GUIDE |
| RD7845 | SHIMANO | FRICTION RING |
| BNT2476 | SHIMANO | CAST CONTROL CAP |
| BNT2994 | SHIMANO | CAST CONTROL CAP |
| BNT1494 | SHIMANO | DRIVE SHAFT WASHER |
| RD3692 | SHIMANO | A/R SPRING |
| RD9369 | SHIMANO | LINE ROLLER WASHER |
| RD3677 | SHIMANO | MAIN SHAFT |
| RD3652 | SHIMANO | BAIL SPRING GUIDE |
| RD1509 | SHIMANO | BAIL SPRING |
| BNT0802 | SHIMANO | SPOOL TENSION SPACER "B" |
| RD0777 | SHIMANO | BAIL WIRE |
| RD0778 | SHIMANO | LINE ROLLER SCREW |
| RD0780 | SHIMANO | BAIL ARM |
| RD0779 | SHIMANO | BAIL TRIP CAM SCREW |
| RD0784 | SHIMANO | LINE ROLLER WASHER |
| RD0556 | SHIMANO | FIGHTIN' PRESSURE SCREW |
| RD0781 | SHIMANO | BAIL SPRING |
| RD0752 | SHIMANO | BAIL SPRING |
| RD0760 | SHIMANO | DRAG KNOB |
| RD0756 | SHIMANO | DRAG KNOB |
| RD0765 | SHIMANO | DRAG KNOB |
| RD0757 | SHIMANO | DRIVE GEAR WASHER |
| RD0758 | SHIMANO | A/R LEVER WASHER |
| RD0759 | SHIMANO | DRAG KNOB CLICK SPRING |
| RD1174 | SHIMANO | HANDLE SCREW CAP |
| TGT050 | SHIMANO | WORM |
| TGT0044 | SHIMANO | WORM BEARING |
| TGT0046 | SHIMANO | SPACER |
| TGT0034 | SHIMANO | PINION GEAR |
| TGT0047 | SHIMANO | PAWL |
| TGT0016 | SHIMANO | CLUTCH SPRING |
| TGT0043 | SHIMANO | WASHER-WORM SHAFT HOLDER |
| TGT0033 | SHIMANO | C-CLIP |
| TGT0032 | SHIMANO | SPACER |
| BNT0801 | SHIMANO | CAST CONTROL KNOB |
| BNT0804 | SHIMANO | SPOOL TENSION SPRING |
| TGT0045 | SHIMANO | PAWL CAP |
| BNT0091 | SHIMANO | WORM & PAWL |
| BNT0048 | SHIMANO | SIDE PLATE SCREW RETAINER SCREW |
| BNT0153 | SHIMANO | BUSHING |
| BNT0036 | SHIMANO | STABILIZER BAR SCREW |
| EMPTY SHIMANO | SHIMANO | |
| BNT0820 | SHIMANO | PINION GEAR |
| RD3681 | SHIMANO | BAIL SPRING SHAFT |
| RD0930 | SHIMANO | BALL BEARING |
| BNT1870 | SHIMANO | CAST CONTROL CAP |
| BNT0600 | SHIMANO | IDLER GEAR |
| BNT0618 | SHIMANO | WORM SHAFT |
| BNT0008 | SHIMANO | CAST CONTROL CAP |
| BNT0616 | SHIMANO | LINE GUIDE |
| BNT1111 | SHIMANO | CAST CONTROL CAP |
| BR0293 | SHIMANO | SPRING |
| EMPTY SHIMANO | SHIMANO | |
| RD4295 | SHIMANO | BAIL SPRING GUIDE |
| RD0559 | SHIMANO | FIGHTIN' DRAG LEVER (big part) |
| BR0312 | SHIMANO | HANDLE LOCK WASHER |
| BR0313 | SHIMANO | HANDLE NUT |
| BR0311 | SHIMANO | LOCK WASHER RETAINER |
| MLX225 | SHIMANO | TRIGGER |
| EMPTY SHIMANO | SHIMANO | |
| KXI52 | SHIMANO | SCREW |
| MLX222 | SHIMANO | BAIL ARM |
| ML146 | SHIMANO | BAIL SPRING |
| BR291 | SHIMANO | SPRING |
| MLX200-228 | SHIMANO | RATCHET |
| MLX200-88 | SHIMANO | A/R LEVER |
| MLX200-203 | SHIMANO | BAIL SPRING |
| BNT0004 | SHIMANO | SCREW |
| BNT0014 | SHIMANO | SHIM |
| BR293 | SHIMANO | UNK PART NAME |
| BR306 | SHIMANO | BAIL SPRING |
| KXB50 | SHIMANO | UNK PART NAME |
| PMA15 | SHIMANO | SPACER |
| GX100-35 | SHIMANO | WASHER |
| GX100-50 | SHIMANO | UNK PART NAME |
| GX100-20 | SHIMANO | UNK PART NAME |
| GX100-42 | SHIMANO | A/R LEVER |
| GX40 | SHIMANO | CAP |
| RD1006 | SHIMANO | HANDLE SCREW CAP |
| EMPTY SHIMANO | SHIMANO | |
| RD1005 | SHIMANO | DRIVE GEAR (big part) |
| RD1007 | SHIMANO | LOCK WASHER RETAINER |
| RD0995 | SHIMANO | FIGHTIN' DRAG LEVER (big part) |
| RD0990 | SHIMANO | FIGHTIN' DRAG LEVER (big part) |
| RD0997 | SHIMANO | CLICK GEAR |
| RD0998 | SHIMANO | A/R PAWL SCREW |
| RD1008 | SHIMANO | HANDLE LOCK WASHER |
| RD1023 | SHIMANO | HANDLE SCREW CAP |
| RD1013 | SHIMANO | DRIVE GEAR (big part) |
| RD1609 | SHIMANO | PINION GEAR |
| RD1611 | SHIMANO | DRIVE GEAR (big part) |
| EMPTY SHIMANO | SHIMANO | |
| RD1888 | SHIMANO | A/R LOCK OUT SPRING |
| RD1955 | SHIMANO | A/R LOCK OUT SPRING |
| RD1956 | SHIMANO | A/R LOCK OUT |
| BNT1239 | SHIMANO | PAWL CAP |
| RD1605 | SHIMANO | A/R LOCK OUT |
| BNT0194 | SHIMANO | BEARING |
| EMPTY SHIMANO | SHIMANO | |
| RD0983 | SHIMANO | FIGHTIN' PRESS SCREW |
| RD0940 | SHIMANO | BAIL TRIP CAM SCREW |
| RD0947 | SHIMANO | DRAG KNOB |
| RD0948 | SHIMANO | BAIL TRIP COVER SCREW |
| RD0949 | SHIMANO | TRIGGER SCREW |
| RD0994 | SHIMANO | DRAG KNOB (big part) |
| RD0982 | SHIMANO | SIDE COVER (big part) |
| RD0958 | SHIMANO | BAIL TRIP COVER SCREW |
| BNT0358 | SHIMANO | PAWL CAP |
| BNT0334 | SHIMANO | RIGHT BEARING SPACER |
| BNT0268 | SHIMANO | WASHER |
| BNT1342 | SHIMANO | PAWL CAP |
| BNT0292 | SHIMANO | STABILIZER BAR SCREW |
| RD0959 | SHIMANO | LINE ROLLER SCREW |
| X/Z0047 | SHIMANO | UNK PART NAME |
| X/Z0049 | SHIMANO | UNK PART NAME |
| RD0560 | SHIMANO | LEVER HOLD SPRING |
| RD0558 | SHIMANO | FIGHTIN' LEVER CLICK |
| RD0557 | SHIMANO | FIGHTIN' LEVER SCREW |
| ??? | SHIMANO | QUICKFIRE II TRIGGER |
| RD4364 | SHIMANO | QUICKFIRE TRIGGER |
| BNT1498 | SHIMANO | MAIN SHAFT KIT |
| RD5476 | SHIMANO | BAIL ASSY |
| RD6632 | SHIMANO | BAIL WIRE |
| RD5593 | SHIMANO | ROTOR |
| 63 | BRONSON | HANDLE 63 |
| BNT2291 | SHIMANO | HANDLE DBL PADDLE |
| RD0105 | SHIMANO | SIDE PLATE QUICKFIRE CUSTOM X-2000 |
| 66 | BRONSON | HANDLE 66 |
| EMPTY SHIMANO | SHIMANO | |
| RD5994 | SHIMANO | PUSH BUTTON BLK (2 PIECE) |
| EMPTY SHIMANO | SHIMANO | |
| EMPTY SHIMANO | SHIMANO | |
| BNT1634 | SHIMANO | LEVEL WIND GUIDE |
| EMPTY SHIMANO | SHIMANO | |
| EMPTY SHIMANO | SHIMANO | |
| BNT0129 | SHIMANO | CAP |
| EMPTY SHIMANO | SHIMANO | |
| RD1306 | SHIMANO | PRE SET SPRING |
| RD1309 | SHIMANO | DRAG KNOB (big part) |
| RD1305 | SHIMANO | PRE SET SPRING COVER |
| RD1301 | SHIMANO | BAIL WIRE |
| RD1310 | SHIMANO | LINE ROLLER SCREW |
| RD1360 | SHIMANO | FIGHTIN' PRESSURE SCREW |
| RD1380 | SHIMANO | LEVER QUADRANT |
| RD1327 | SHIMANO | DRAG KNOB (big part) |
| RD1307 | SHIMANO | PRE SET RING |
| RD1599 | SHIMANO | MAIN GEAR (big part) |
| BR1316 | SHIMANO | SPRING |
| RD1302 | SHIMANO | LINE ROLLER SCREW |
| EMPTY SHIMANO | SHIMANO | |
| RD1483 | SHIMANO | HANDLE SCREW CAP |
| RD1544 | SHIMANO | BUSHING |
| RD1536 | SHIMANO | BAIL SPRING GUIDE |
| RD1537 | SHIMANO | BAIL SPRING |
| RD1510 | SHIMANO | BAIL SPRING GUIDE |
| BNT3153 | SHIMANO | SCREW |
| RD1535 | SHIMANO | QUICKFIRE II TRIGGER |
| RD1513 | SHIMANO | A/R LOCKOUT |
| RD1595 | SHIMANO | A/R LOCKOUT |
| RD1533 | SHIMANO | LINE ROLLER WASHER |
| RD1588 | SHIMANO | PINION GEAR |
| RD1532 | SHIMANO | LINE ROLLER |
| RD1518 | SHIMANO | A/R PAWL SPRING |
| RD1446 | SHIMANO | HANDLE |
| RD1597 | SHIMANO | PINION GEAR |
| RD1477 | SHIMANO | BUSHING 'B' |
| SP0013 | SHIMANO | UNK PART NAME |
| RD1547 | SHIMANO | A/R PAWL SPRING |
| EMPTY SHIMANO | SHIMANO | |
| RD1590 | SHIMANO | MAIN GEAR |
| RD0873 | SHIMANO | FIGHTIN' PRESSURE SCREW |
| RD1020 | SHIMANO | MAIN GEAR (big part) |
| RD1160 | SHIMANO | BAIL ARM |
| RD0860 | SHIMANO | FIGHTIN' DRAG LEVER |
| RD0854 | SHIMANO | DRAG KNOB (big part) |
| RD1164 | SHIMANO | DRAG KNOB (big part) |
| RD0855 | SHIMANO | KNOB SPACER |
| RD1112 | SHIMANO | DRAG KNOB (big part) |
| BNT0333 | SHIMANO | CAST CONTROL CAP |
| EMPTY SHIMANO | SHIMANO | |
| BNT0151 | SHIMANO | PAWL CAP |
| BNT0335 | SHIMANO | BEARING WASHER 'A' |
| BNT0170 | SHIMANO | A/R PAWL |
| BNT0179 | SHIMANO | BUSHING 'A' |
| RD1091 | SHIMANO | SPOOL WASHER |
| BNT2223 | SHIMANO | CAST CONTROL CAP |
| RD0865 | SHIMANO | DRAG SHAFT |
| RD0864 | SHIMANO | PRESSURE SCREW |
| RD0867 | SHIMANO | DRAG KNOB (big part) |
| SP0004 | SHIMANO | SPINNER HEAD |
| SP0006 | SHIMANO | UNK PART NAME |
| SP0005 | SHIMANO | C-CLIP |
| SP0002 | SHIMANO | HEX NUT |
| EMPTY SHIMANO | SHIMANO | |
| RD6060 | SHIMANO | OSC SLIDER BUSHING |
| RD0870 | SHIMANO | FIGHTIN' DRAG LEVER (big part) |
| RD0875 | SHIMANO | DRAG SHAFT |
| RD0874 | SHIMANO | PRESSURE SCREW |
| RD0877 | SHIMANO | DRAG KNOB (big part) |
| RD0883 | SHIMANO | BAIL WIRE |
| KXI0018 | SHIMANO | BAIL ARM |
| RD0960 | SHIMANO | FIGHTIN' DRAG LEVER (big part) |
| RD1465 | SHIMANO | BAIL SPRING |
| RD1481 | SHIMANO | BUSHING 'A' |
| EMPTY SHIMANO | SHIMANO | |
| KXI0013 | SHIMANO | UNK PART NAME |
| RD1461 | SHIMANO | BAIL WIRE |
| RD1512 | SHIMANO | BAIL TRIP LEVER |
| RD1511 | SHIMANO | LEVER SPRING |
| Misc Parts | SHIMANO | SPOOL RELEASE PARTS |
| BNT3539 | SHIMANO | SPOOL ASSY |
| RD5658 | SHIMANO | BAIL WIRE |
| PT4011-01 | BROWNING | GEAR ASSY KIT (SEE 1826 FOR MORE) |
| QT4011-01 | ? | GEAR ASSY KIT |
| PT4011-01 | BROWNING | GEAR ASSY KIT (SEE 1823 FOR MORE) |
| RD1462 | SHIMANO | LEVER SPRING |
| RD1472 | SHIMANO | A/R PAWL SPRING |
| RD1515 | SHIMANO | BUSHING |
| RD1520 | SHIMANO | A/R CAM SPRING |
| RD1539 | SHIMANO | LEVER SPRING |
| RD1582 | SHIMANO | ROTOR NUT |
| SP0015 | SHIMANO | UNK PART NAME |
| SP0012 | SHIMANO | UNK PART NAME |
| SP0020 | SHIMANO | C-CLIP |
| SP0011 | SHIMANO | UNK PART NAME |
| BNT0330 | SHIMANO | HANDLE NUT LOCK PLATE |
| BNT0141 | SHIMANO | CAST CONTROL |
| RD0826 | SHIMANO | KEY WASHER 'A' |
| KXB0047 | SHIMANO | HANDLE CAP |
| 8592100 | UNK MANUF | |
| EMPTY SHIMANO | SHIMANO | |
| EMPTY SHIMANO | SHIMANO | |
| RD0976 | SHIMANO | FIGHTIN' DRAG LEVEL |
| RD1049 | SHIMANO | PINION GEAR |
| RD1051 | SHIMANO | DRAG KNOB (big part) |
| KXB0092 | SHIMANO | SIDE PLATE |
| RD1050 | SHIMANO | MAIN GEAR (big part) |
| RD1062 | SHIMANO | PINION GEAR |
| RD0984 | SHIMANO | FIGHTIN' DRAG LEVER (big part) |
| RD0989 | SHIMANO | DRAG KNOB (big part) |
| RD0080 | SHIMANO | LINE ROLLER |
| RD0829 | SHIMANO | FIGHTIN' DRAG LEVER (big part) |
| RD0830 | SHIMANO | FIGHTIN' PRESS SCREW |
| RD0622 | SHIMANO | DRAG KNOB (big part) |
| RD0828 | SHIMANO | DRAG SPRING WASHER |
| RD0791 | SHIMANO | PINION GEAR |
| RD0795 | SHIMANO | BUSHING 'B' |
| RD0793 | SHIMANO | A/R RATCHET |
| RD0621 | SHIMANO | DRAG KNOB CLICK SPRING |
| BNT 2200 | SHIMANO | Handle nut |
| EMPTY SHIMANO | SHIMANO | |
| RD0827 | SHIMANO | DRAG WASHER H1 |
| RD0792 | SHIMANO | BEARING RETAINER SCREW |
| RD0798 | SHIMANO | DRAG SHAFT |
| RD0795 | SHIMANO | BUSHING 'A' |
| RD0797 | SHIMANO | DRAG KNOB (big part) |
| RD0799 | SHIMANO | FIGHTIN' DRAG LEVER (big part) |
| RD0800 | SHIMANO | FIGHTIN' PRESSURE SCREW |
| RD0910 | SHIMANO | DRAG KNOB (big part) |
| RD0887 | SHIMANO | KNOB SPACER |
| EMPTY SHIMANO | SHIMANO | |
| RD0888 | SHIMANO | DRAG KNOB (big part) |
| RD1507 | SHIMANO | BAIL ARM |
| RD1509 | SHIMANO | BAIL SPRING |
| RD1504 | SHIMANO | BAIL HOLD COVER SCREW |
| EMPTY SHIMANO | SHIMANO | |
| EMPTY SHIMANO | SHIMANO | |
| BNT2156 | Shimano | Worm Bushing |
| RD0549 | SHIMANO | EARED WASHER 'B' |
| RD0721 | SHIMANO | BAIL SPRING |
| RD0369 | SHIMANO | DRAG SHAFT |
| RD0370 | SHIMANO | EARED WASHER 'G' |
| RD0373 | SHIMANO | CLICK GEAR |
| RD0371 | SHIMANO | DRAG WASHER 'C2' |
| RD0706 | SHIMANO | LEVER HOLD SPRING |
| RD0708 | SHIMANO | DRAG PROGRAM SCREW |
| RD0372 | SHIMANO | DRAG KNOB (big part) |
| RD0707 | SHIMANO | DRAG KNOB (big part) |
| RD0707 | SHIMANO | DRAG KNOB (MORE) (big part) |
| RD0720 | SHIMANO | BAIL SCREW |
| RD0704 | SHIMANO | FIGHTIN' PRESSURE SCREW |
| RD0568 | SHIMANO | BAIL SPRING |
| RD0703 | SHIMANO | FIGHTIN' SCREW WASHER |
| RD0700 | SHIMANO | PRESSURE SCREW |
| RD0615 | SHIMANO | FIGHTIN' DRAG LEVER (big part) |
| RD0617 | SHIMANO | DRAG KNOB (big part) |
| RD0705 | SHIMANO | FIGHTIN' DRAG LEVER (big part) |
| RD0701 | SHIMANO | HOLD CLICK SPRING |
| RD0702 | SHIMANO | LEVER CLICK GEAR |
| RD0613 | SHIMANO | FIGHTIN' SCREW WASHER |
| RD0767 | SHIMANO | DRAG KNOB (big part) |
| RD0769 | SHIMANO | DRAG KNOB (big part) |
| RD0679 | SHIMANO | DRAG KNOB (big part) |
| RD0749 | SHIMANO | HANDLE LOCK RING |
| RD0676 | SHIMANO | PINION GEAR |
| RD0836 | SHIMANO | BAIL TRIP LEVER |
| RD0385 | SHIMANO | A/R CAM |
| RD0803 | SHIMANO | HANDLE KNOB |
| RD0612 | SHIMANO | LEVER CLICK GEAR |
| RD0809 | SHIMANO | BAIL SPRING GUIDE |
| RD0616 | SHIMANO | LEVER HOLD SPRING |
| RD0611 | SHIMANO | HOLD CLICK SPRING |
| RD0614 | SHIMANO | FIGHTIN' PRESSURE SCREW |
| RD0806 | SHIMANO | LINE ROLLER SCREW |
| EMPTY SHIMANO | SHIMANO | |
| RD0841 | SHIMANO | OSCILLATING GEAR |
| EMPTY SHIMANO | SHIMANO | |
| RD0845 | SHIMANO | DRAG SHAFT |
| RD0850S | SHIMANO | A/R PAWL |
| RD0846 | SHIMANO | KEY WASHER 'A' |
| RD0847 | SHIMANO | DRAG WASHER |
| RD0848 | SHIMANO | DRAG SPRING WASHER |
| RD0849 | SHIMANO | FIGHTIN' DRAG LEVER (big part) |
| RD0490 | SHIMANO | DRIVE GEAR BUSHING |
| RD0698 | SHIMANO | DRAG SPRING WASHER |
| RD0696 | SHIMANO | DRAG SHAFT |
| RD0446 | SHIMANO | STOP RING |
| RD0447 | SHIMANO | DRAG KNOB (big part) |
| RD0449 | SHIMANO | LOCK SPRING |
| RD0448 | SHIMANO | DRAG SPRING WASHER |
| RD0450 | SHIMANO | DRAG SPRING WASHER 'C' |
| RD0786 | SHIMANO | TRIGGER SCREW |
| RD0785 | SHIMANO | QUICKFIRE II TRIGGER |
| RD0694 | SHIMANO | CLICK GEAR |
| RD0693 | SHIMANO | DRAG WASHER 'C2' |
| RD0690 | SHIMANO | DRIVE GEAR WASHER |
| RD0697 | SHIMANO | EARED WASHER 'B' |
| RD0643 | SHIMANO | DRAG KNOB |
| RD0644 | SHIMANO | DRAG KNOB SCREW |
| RD0642 | SHIMANO | SIDE COVER SCREW |
| RD0695 | SHIMANO | EARED WASHER 'BF' |
| RD0699 | SHIMANO | O-RING |
| RD0745 | SHIMANO | EARED WASHER |
| RD0538 | SHIMANO | A/R PAWL |
| RD0539 | SHIMANO | A/R PAWL SPRING |
| RD0541 | SHIMANO | DRAG CLICK |
| RD0543 | SHIMANO | SIDE COVER SCREW 'B' |
| RD0540 | SHIMANO | A/R PAWL SCREW |
| RD0544 | SHIMANO | DRAG WASHER (WHITE) |
| RD0545 | SHIMANO | DRAG WASHER |
| EMPTY SHIMANO | SHIMANO | |
| RD0811 | SHIMANO | BAIL SPRING GUIDE |
| RD0561 | SHIMANO | DRAG KNOB (big part) |
| RD0816 | SHIMANO | QUICKFIRE II TRIGGER |
| RD0661 | SHIMANO | DRAG KNOB |
| RD0662 | SHIMANO | DRAG KNOB SCREW |
| RD0629 | SHIMANO | DRAG KNOB (big part) |
| RD0514 | SHIMANO | LOCK SPRING |
| RD0554 | SHIMANO | LEVER CLICK GEAR |
| RD0351 | SHIMANO | BAIL TRIP COVER SCREW |
| RD0347 | SHIMANO | DRAG SCREW 2 SIZES |
| RD0517 | SHIMANO | STOP RING |
| RD0346 | SHIMANO | DRAG KNOB (big part) |
| RD1883 Or RD5183 | SHIMANO | MAIN SHAFT |
| RD0156 | SHIMANO | PRESSURE SCREW (0.05 weight) |
| RD0591 | SHIMANO | DRAG KNOB SCREW |
| RD0604 | SHIMANO | DRAG SHAFT |
| RD0160 | SHIMANO | KEY WASHER 'A' |
| RD0602 | SHIMANO | SIDE COVER SCREW 'A' |
| RD0610 | SHIMANO | PRESSURE SCREW |
| RD0146 | SHIMANO | SIDE COVER SCREW |
| RD0355 | SHIMANO | LINE ROLLER SCREW |
| EMPTY SHIMANO | SHIMANO | |
| RD0158 | SHIMANO | DRAG KNOB SCREW |
| RD0166 | SHIMANO | BAIL ARM |
| RD0150A | SHIMANO | DRAG WASHER 'D1' |
| RD0152A | SHIMANO | DRAG WASHER 'D2' |
| RD0151 | SHIMANO | EARED WASHER 'B' |
| RD0609 | SHIMANO | O-RING |
| RD0605 | SHIMANO | KEY WASHER 'A' |
| RD0397 | SHIMANO | CLICK GEAR |
| RD0399 | SHIMANO | EARED WASHER 'B' |
| RD0150 | SHIMANO | DRAG WASHER |
| RD0607 | SHIMANO | EARED WASHER 'B' |
| EMPTY SHIMANO | SHIMANO | |
| RD0603 | SHIMANO | EARED WASHER 'B' |
| EMPTY SHIMANO | SHIMANO | |
| RD0608 | SHIMANO | CONED DISC SPRING |
| RD0152 | SHIMANO | DRAG WASHER 'D1' |
| RD0159 | SHIMANO | CLICK GEAR |
| RD0595 | SHIMANO | A/R PAWL SPRING |
| RD0115A | SHIMANO | STOP RING |
| RD0468 | SHIMANO | BAIL SPRING |
| EMPTY SHIMANO | SHIMANO | |
| RD0444 | SHIMANO | DRAG SPRING WASHER |
| RD0445 | SHIMANO | PRESSURE SCREW |
| RD0445 ? | SHIMANO | DRAG SPRING WASHER WRONG # ON BAG |
| RD0147 | SHIMANO | A/R LEVER |
| RD0395 | SHIMANO | DRAG KNOB (big part) |
| RD0824 | SHIMANO | DRAG KNOB (big part) |
| RD0822 | SHIMANO | A/R PAWL SCREW |
| RD0821 | SHIMANO | A/R RATCHET |
| RD0110A | SHIMANO | DRAG WASHER (WHITE) |
| RD0113 | SHIMANO | DRAG SPRING WASHER |
| RD0108 | SHIMANO | DRAG WASHER |
| EMPTY SHIMANO | SHIMANO | |
| RD0452 | SHIMANO | DRAG SPRING WASHER |
| RD0153 | SHIMANO | DRAG COIL SPRING |
| RD0597 | SHIMANO | A/R CAM |
| RD0441 | SHIMANO | DRAG SHAFT |
| RD0454 | SHIMANO | DRAG SHAFT |
| RD0457 | SHIMANO | DRAG SPRING WASHER |
| RD0111 | SHIMANO | DRAG COIL SPRING |
| RD0398 | SHIMANO | DRAG WASHER 'C' |
| RD0440 | SHIMANO | DRAG KNOB CLICK SPRING |
| RD0443 | SHIMANO | DRAG COIL SPRING |
| RD0451 | SHIMANO | LOCK SPRING |
| RD0456 | SHIMANO | LOCK SPRING |
| RD0140 | SHIMANO | SIDE COVER SCREW |
| RD0523 | SHIMANO | HANDLE LOCK SCREW |
| RD0519 | SHIMANO | DRAG KNOB SCREW |
| RD0109 | SHIMANO | EARED WASHER |
| EMPTY SHIMANO | SHIMANO | |
| RD0555 | SHIMANO | FIGHTIN' PRESSURE WASHER |
| RD0601 | SHIMANO | DRAG CLICK |
| RD0504 | SHIMANO | DRAG WASHER |
| RD0513 | SHIMANO | LOCK WASHER |
| RD0820 | SHIMANO | OSCILLATING GEAR |
| RD0825 | SHIMANO | DRAG SHAFT |
| EMPTY SHIMANO | SHIMANO | |
| RD0505 | SHIMANO | CLICK GEAR |
| RD0458 | SHIMANO | PRESSURE SCREW (big part) |
| RD0810 | SHIMANO | BAIL SPRING GUIDE |
| RD0553 | SHIMANO | HOLD CLICK SPRING |
| RD0552 | SHIMANO | PRESSURE SCREW |
| RD0259 | SHIMANO | HANDLE LOCK SCREW |
| RD0819 | SHIMANO | A/R LEVER |
| RD0628 | SHIMANO | DRAG KNOB CLICK SPRING |
| RD0498 | SHIMANO | HANDLE LOCK RING |
| RD0509 | SHIMANO | DRAG WASHER |
| RD0511 | SHIMANO | DRAG WASHER |
| RD0508 | SHIMANO | KEY WASHER 'A' |
| RD0512 | SHIMANO | CONED DISC SPRING |
| RD0506 | SHIMANO | DRAG WASHER 'E' |
| RD0632 | SHIMANO | SIDE COVER SCREW |
| RD0394 | SHIMANO | EARED WASHER 'G' |
| RD0510 | SHIMANO | EARED WASHER |
| RD0507 | SHIMANO | EARED WASHER |
| RD0563 | SHIMANO | DRIVE GEAR BUSHING |
| EMPTY SHIMANO | SHIMANO | |
| RD0815 | SHIMANO | LINE ROLLER WASHER |
| RD0357 | SHIMANO | A/R CAM |
| RD0360 | SHIMANO | MAIN GEAR (big part) |
| RD0387 | SHIMANO | DRIVE GEAR (big part) |
| EMPTY SHIMANO | SHIMANO | |
| RD0390 | SHIMANO | OSCILLATING SLIDER |
| RD0625 | SHIMANO | SIDE COVER SCREW |
| RD0654 | SHIMANO | BAIL SPRING |
| RD0657 | SHIMANO | PINION GEAR |
| RD0653 | SHIMANO | BAIL TRIP COVER SCREW |
| RD0344 | SHIMANO | DRAG KNOB SCREW |
| RD0297 | SHIMANO | BAIL SPRING |
| RD0235 | SHIMANO | BAIL SPRING |
| RD0177 | SHIMANO | BAIL SPRING |
| RD0178 | SHIMANO | BAIL TRIP COVER |
| RD0345 | SHIMANO | A/R LEVER SCREW |
| RD0583 | SHIMANO | PRESSURE SCREW |
| RD0584 | SHIMANO | HOLD CLICK SPRING |
| RD0581 | SHIMANO | CONED DISC SPRING |
| RD0578 | SHIMANO | DRAG WASHER 'F2' |
| RD0576 | SHIMANO | DRAG SHAFT (small part) |
| RD0116 | SHIMANO | CLICK GEAR |
| RD0572 | SHIMANO | SIDE COVER |
| RD0325 | SHIMANO | MAIN SHAFT |
| RD0123 | SHIMANO | BAIL TRIP LEVER |
| RD0589 | SHIMANO | LEVER HOLD SPRING |
| RD0575 | SHIMANO | EARED WASHER 'BF' |
| RD0582 | SHIMANO | O-RING |
| RD0585 | SHIMANO | LEVER CLICK GEAR |
| RD0577 | SHIMANO | KEY WASHER 'A' |
| RD0117 | SHIMANO | KEY WASHER 'A' |
| RD0203 | SHIMANO | LINE ROLLER WASHER |
| RD0189 | SHIMANO | E-LOCK |
| RD0571 | SHIMANO | A/R LEVER |
| RD0647 | SHIMANO | NUT LOCK SCREW |
| RD0195 | SHIMANO | LEVER SPRING |
| EMPTY SHIMANO | SHIMANO | |
| RD4649 | SHIMANO | SPACER |
| RD0124 | SHIMANO | BAIL TRIP COVER |
| RD0574 | SHIMANO | DRAG WASHER 'C2' |
| RD0202 | SHIMANO | BAIL ARM |
| RD0129A | SHIMANO | A/R SPRING HOLDER |
| RD0198 | SHIMANO | TRIP LEVER GUIDE |
| RD7466 | SHIMANO | CLICK PIN |
| RD0343 | SHIMANO | DRAG KNOB |
| RD unkown | SHIMANO | STOP RING |
| RD0646 | SHIMANO | MAIN SHAFT |
| RD0136 | SHIMANO | A/R CAM SPRING |
| RD0200 | SHIMANO | BAIL SPRING |
| RD0586 | SHIMANO | FIGHTIN' PRESSURE SCREW WASHER |
| RD0021 | SHIMANO | LINE ROLLER SCREW |
| UNK PART # | SHIMANO | CUSTOM-X 300 BAIL SPRING COVER |
| RD0045 | SHIMANO | HANDLE LOCK SCREW |
| RD0044 | SHIMANO | HANDLE LOCK WASHER |
| RD0019 | SHIMANO | BAIL ARM |
| RD0024 | SHIMANO | TRIP LEVER SCREW |
| RD0081 | SHIMANO | BAIL SPRING COVER |
| RD0036 | SHIMANO | DRIVE GEAR (big part) |
| RD0048 | SHIMANO | A/R LEVER |
| RD0082 | SHIMANO | BAIL ARM |
| RD0588 | SHIMANO | FIGHTIN' DRAG LEVER (big part) |
| RD0131 | SHIMANO | A/R PAWL SCREW |
| RD0050 | SHIMANO | A/R LEVER SCREW |
| EMPTY SHIMANO | SHIMANO | |
| RD0018 | SHIMANO | LINE ROLLER |
| RD0243 | SHIMANO | SIDE COVER SCREW 'B' |
| RD0020 | SHIMANO | LOCK WASHER |
| RD0053 | SHIMANO | HANDLE SCREW CAP |
| RD0004 | SHIMANO | SHAFT |
| RD0587 | SHIMANO | FIGHTIN' PRESSURE SCREW |
| RD0085 | SHIMANO | QUICKFIRE II TRIGGER |
| RD0084 | SHIMANO | BAIL SCREW |
| RD0041 | SHIMANO | DRIVE GEAR WASHER |
| RD0114 | SHIMANO | PRESSURE SCREW (0.05 weight) |
| RD0010 | SHIMANO | BAIL TRIP COVER |
| RD0011 | SHIMANO | BAIL TRIP CAM SCREW |
| RD0056 | SHIMANO | EARED WASHER |
| RD0005 | SHIMANO | ROTOR |
| RD0055 | SHIMANO | DRAG WASHER |
| RD0547 | SHIMANO | DRAG SHAFT |
| RD0550 | SHIMANO | CONED DISC SPRING |
| RD0038 | SHIMANO | SIDE COVER SCREW |
| RD0081 | SHIMANO | BAIL SPRING COVER |
| RD0049 | SHIMANO | LOCK WASHER |
| RD0014 | SHIMANO | BAIL SPRING |
| RD0057 | SHIMANO | DRAG WASHER 'D1' |
| RD0017 | SHIMANO | LINE ROLLER WASHER |
| RD0015 | SHIMANO | BAIL SPRING COVER |
| RD0579 | SHIMANO | EARED WASHER |
| RD8147 | SHIMANO | FRICTION RING |
| RD0012 | SHIMANO | BAIL COVER SCREW |
| RD0031 | SHIMANO | DRAG CLICK |
| RD0013 | SHIMANO | TRIP LEVER SPRING |
| RD0007 | SHIMANO | ROTOR NUT LOCK |
| RD0676 | SHIMANO | PINION GEAR |
| RD0042 | SHIMANO | DRIVE GEAR BUSHING |
| RD0079 | SHIMANO | BAIL TRIP CAM SCREW |
| RD0075 | SHIMANO | LEVER SPRING |
| RD0087 | SHIMANO | BAIL SPRING |
| RD0087A | SHIMANO | BAIL SPRING |
| RD0096 | SHIMANO | A/R CAM SPRING |
| RD0090 | SHIMANO | A/R PAWL SPRING |
| RD0070 | SHIMANO | ROTOR NUT LOCK PLATE |
| RD0089 | SHIMANO | LOCK WASHER |
| RD0071 | SHIMANO | ROTOR NUT |
| RD0073 | SHIMANO | BAIL TRIP SLIDE CAM |
| RD0074 | SHIMANO | BAIL TRIP LEVER |
| MLX0071 | SHIMANO | LOCK WASHER |
| RD0086 | SHIMANO | TRIGGER SCREW |
| RD0091 | SHIMANO | A/R PAWL SCREW |
| RD0064 | SHIMANO | CLICK GEAR |
| RD0063 | SHIMANO | DRAG KNOB SCREW |
| RD0077 | SHIMANO | BAIL SPRING COVER SCREW |
| RD0102 | SHIMANO | HANDLE LOCK SCREW |
| RD0069 | SHIMANO | MAIN SHAFT |
| TLD0123A | SHIMANO | BALL BEARING |
| RD0060 | SHIMANO | DRAG SPRING WASHER 'B' |
| EMPTY SHIMANO | SHIMANO | |
| BNT2389 | SHIMANO | SCREW |
| RD0076 | SHIMANO | BAIL TRIP COVER |
| RD0103 | SHIMANO | HANDLE LOCK SPACER |
| RD0065 | SHIMANO | KEY WASHER 'A' |
| RD7804 | SHIMANO | FRICTION RING |
| BNT1133 | SHIMANO | YOKE SPRING |
| BNT1207 | SHIMANO | ROLLER CLUTCH BEARING |
| BNT1715 | SHIMANO | BRAKE COLLAR-RED |
| BNT1713 | SHIMANO | BRAKE COLLAR-GREEN |
| RD5413 | SHIMANO | BAIL ARM |
| BNT1698 | SHIMANO | RIGHT SIDE PLATE BOLT |
| TGT0008 | SHIMANO | CAST CONTROL CAP |
| BNT0797 | SHIMANO | UNK PART NAME |
| BNT1714 | SHIMANO | WORM GEAR |
| RD6516 | SHIMANO | BAIL ARM |
| RD4421 | SHIMANO | HANDLE NUT |
| RD6516 | SHIMANO | BAIL ARM |
| BNT0812 | SHIMANO | DRAG WASHER " B" |
| BNT1350 | SHIMANO | CLUTCH BAR, QUICKFIRE II (Small Part) |
| RD6388 | SHIMANO | ROTOR PROTECTOR (big part) |
| BNT2063 | SHIMANO | DRAG WASHER |
| BNT2062 | SHIMANO | DRAG WASHER |
| BNT2061 | SHIMANO | DRAG WASHER |
| BNT1872 | SHIMANO | WORM SHAFT |
| BNT2002 | SHIMANO | STAR DRAG |
| BNT1700 | SHIMANO | WORM GEAR |
| BNT1633 | SHIMANO | LEVEL WIND GEAR SHIELD |
| BNT1455 | SHIMANO | DISC SPRING |
| BNT1648 | SHIMANO | IDLE GEAR |
| BNT1692 | SHIMANO | HANDLE NUT COVER |
| BNT1693 | SHIMANO | HANDLE NUT |
| BNT1857 | SHIMANO | DRIVE SHAFT |
| BNT0795 | SHIMANO | SCREW |
| BNT1584 | SHIMANO | SIDE PLATE |
| RD1708 | SHIMANO | HANDLE |
| MCR0007 | SHIMANO | HANDLE KNOB 2000 |
| MCR0062 | SHIMANO | HANDLE KNOB 4000 |
| BNT3137 | SHIMANO | DRIVE SHAFT |
| RD5630 | SHIMANO | LINE ROLLER |
| RD5482 | SHIMANO | A/R CAM |
| RD2858 | SHIMANO | BAIL ARM |
| TGT0048 | SHIMANO | LINE GUIDE |
| TGT0042 | SHIMANO | C-CLIP |
| RD4158 | SHIMANO | BAIL SPRING |
| MCR0061 | SHIMANO | HANDLE SCREW |
| MCR0058 | SHIMANO | HANDLE KNOB |
| RD3122 | SHIMANO | BAIL WIRE |
| RD6522 | SHIMANO | IDLE GEAR |
| RD4662 | SHIMANO | A/R CAM |
| RD4695 | SHIMANO | DRAG KNOB |
| RD3987 | SHIMANO | DRAG KNOB |
| RD3987 | SHIMANO | DRAG KNOB |
| RD3391 | SHIMANO | DRAG KNOB |
| RD5199 | SHIMANO | DRAG KNOB |
| RD6287 | SHIMANO | DRAG KNOB SA 1000 FB |
| RD4897 | SHIMANO | DRAG KNOB |
| RD4885 | SHIMANO | DRAG KNOB (ALSO SEE 0950) |
| RD4632 | SHIMANO | DRAG KNOB |
| RD3453 | SHIMANO | DRAG KNOB |
| RD6350 | SHIMANO | DRAG KNOB |
| RD3488 | SHIMANO | OSCILLATING GUIDE HOLDER |
| RD4423 | SHIMANO | A/R LEVER |
| BNT1678 | SHIMANO | SPOOL TENSION SPRING |
| BNT0154 | SHIMANO | FELT OIL RETAINER |
| BNT0001 | SHIMANO | HANDLE SCREW |
| RD4449 | SHIMANO | A/R LEVER |
| BNT1996 | SHIMANO | SPOOL TENSION SPRING |
| RD6516 | SHIMANO | BAIL ARM (BNT6516?) |
| RD4568 | SHIMANO | BAIL ARM |
| RD2324 | SHIMANO | SPRING GUIDE |
| RD3849 | SHIMANO | BAIL SPRING GUIDE |
| TGT0182 | SHIMANO | CAST CONTROL CAP |
| RD4823 | SHIMANO | BAIL ARM |
| 1200805 | PFLUEGER | clutch spring |
| 1200805 | PFLUEGER | clutch spring |
| 1224307 | PFLUEGER | clutch spring |
| 1216544 | PFLUEGER | lever spring |
| 1201835 | PFLUEGER | bail arm spring |
| 1205923 | PFLUEGER | bail spring |
| 1201863 | PFLUEGER | washer |
| 1207111 | PFLUEGER | plastic washer |
| 1252705 | ABU | LINE ROLLER |
| 1185909 | ABU | LINE GUIDE ASSEMBLY |
| 1252073 | ABU | CAM LOCK SCREW |
| 1125756 | ABU | RATCHET |
| 1277376 | ABU | o ring |
| 1207635 | PFLUEGER | trip plunger |
| 1307927 | ABU | Line guide |
| 1206527 | PFLUEGER | trip plunger |
| 1252701 | ABU | MAIN SHAFT |
| 1152499 | ABU | Handle |
| 1216626 | ABU | SPOOL |
| 1277360 | ABU | HANDLE ASSY |
| 1208282 | PFLUEGER | bail arm |
| 1280988 | ABU | bail arm |
| 1303719 | PFLUEGER | bail arm |
| 1133017 | ABU | bail arm |
| 1216533 | PFLUEGER | bail arm |
| 1226631 | PFLUEGER | bail arm |
| 1252686 | ABU | DRAG KNOB ASSY |
| 1208292 | PFLUEGER | main shaft |
| 1200790 | PFLUEGER | bail arm guide |
| 1201836 | PFLUEGER | bail arm guide |
| 1208298 | PFLUEGER | o/s gear |
| 1121573 | ABU | SPING WASHER |
| 1277377 | ABU | WASHER |
| 1216729 | PFLUEGER | handle |
| 1207850 | PFLUEGER | drive gear worn |
| 1143807 | PFLUEGER | drive gear worn |
| 1208288 | PFLUEGER | handle |
| 1203291 | PFLUEGER | drive gear |
| 1205930 | PFLUEGER | drive gear |
| 1276911 | ABU | drive gear worn |
| 22081 | ABU | DRIVE SHAFT |
| 1160947 | ABU | MAIN GEAR SHAFT |
| 1160969 | ABU | WORM SHAFT |
| 1226657 | PFLUEGER | handle |
| 1276895 | ABU | PINION GEAR |
| 1143771 | ABU | PINION |
| 1160963 | ABU | PINION |
| 1200801 | PFLUEGER | bearing |
| 1216541 | PFLUEGER | bearing |
| 1303502 | PFLUEGER | bearing |
| 1201850 | PFLUEGER | bearing |
| 1187625 | ABU | BALL BEARING |
| 1126379 | ABU | SCREW |
| 1277379 | ABU | handle cap |
| 1208284 | PFLUEGER | side cap |
| 1206597 | PFLUEGER | side cap |
| 1208263 | PFLUEGER | drag knob |
| 1121574 | ABU | side cap |
| 1216635 | PFLUEGER | dust cap assy |
| 1216545 | PFLUEGER | dust cap assy |
| 1226637 | PFLUEGER | side cap |
| 1200873 | ABU | dust cap assy |
| 1303675 | PFLUEGER | drag knob |
| 1116731 | ABU | handle nut cover |
| 1248985 | ABU | DUST CAP |
| 1279737 | ABU | |
| 1279789 | ABU | handle screw STX AND CARDINAL |
| 1307954 | ABU | handle |
| 1303725 | PFLUEGER | handle |
| 81037 | MITCHELL | SIDE PLATE |
| 81014 | MITCHELL | BAIL SPRING |
| 82576 | MITCHELL | SIDE PLATE SEAL |
| 1303723 | PFLUEGER | handle lock |
| 1211040 | ABU | HANDLE |
| 781-6319 | DAIWA | PUSH BUTTON |
| W52-0202 | DAIWA | BAIL ARM |
| W45-4501 | daiwa | HANDLE SCREW |
| W52-2001 | daiwa | HANDLE SCREW |
| w51-6301 | daiwa | handle |
| W44-9401 | DAIWA | HANDLE COLLAR |
| W34-4702 | DAIWA | COLLAR |
| PG347-12 | ZEBCO | Bail Assy KT20ptic |
| | | |
| vaa321-01 | ZEBCO | spool for smoke 30 |
| 1094170 | ABU | anti reverse stem |
| 1094151 | ABU | line roller washer |
| 9181296 | ABU | a/r lever switch |
| 1085604 | ABU | spool 100u |
| 1121578 | ABU | STAR WHEEL |
| 1066242 | ABU | teflon washer |
| 1071057 | ABU | bail trip lever |
| 9182504 | ABU | washer |
| 9182481 | ABU | LINE GUIDE PAWL WASHER |
| 1208319 | ABU | bail wire sub assy |
| 1251876 | ABU | BAIL holder |
| 1201842 | ABU | rotor nut |
| 1239211 | ABU | washer |
| 1201823 | ABU | SCREW |
| 1090817 | ABU | spring d washer |
| 1249002 | ABU | handle |
| 9083589 | MITCHELL | SPOOL |
| B60-0301 | DAIWA | HANDLE |
| W32-0802 | DAIWA | HANDLE STAND |
| w59-6601 | DAIWA | PINION GEAR |
| G47-2101 | DAIWA | SPOOL METAL |
| G49-3201 | DAIWA | MAIN SHAFT |
| G03-5301 | DAIWA | bail |
| WD4-0601 | DAIWA | DRAG KNOB |
| 1200818 | PFLUEGER | handle pflueger arbor |
| 1279740 | ABU | handle |
| 1252728 | ABU | handle |
| W59-8601 | DAIWA | HANDLE |
| W52-2401 | DAIWA | HANDLE |
| | | |
| | | |
| | | |
| | | |
| | | |
| | | |
| | | |
| | | |
| | | |
| | | |
| | | |